Ready to experience the dish that took the internet by storm? This Marry Me Chicken is not only the heart-warming recipe that kickstarted a massive trend, but its lip-smacking video has also captivated millions of foodies on social media – it's high time you joined the rave!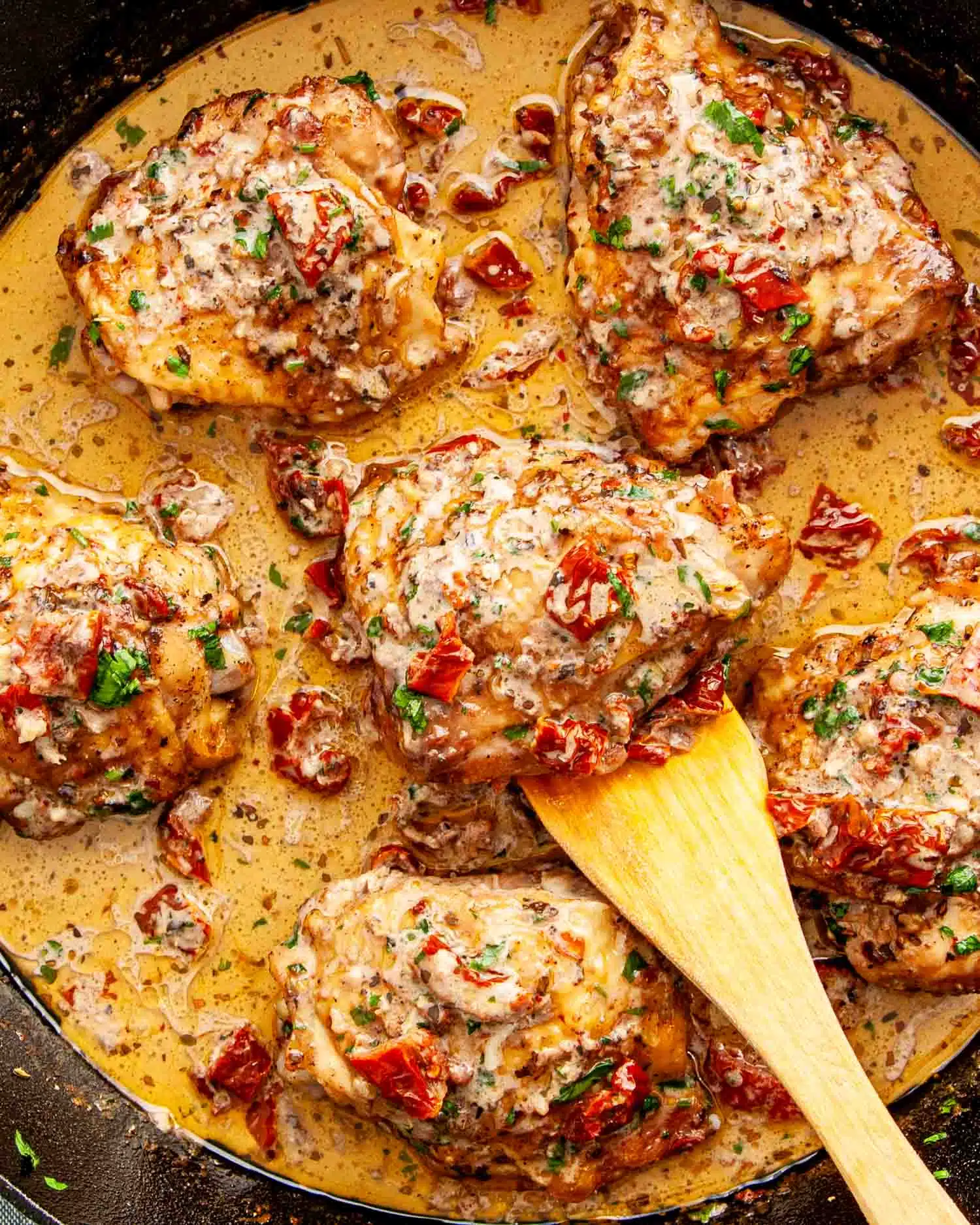 The Best Marry Me Chicken Recipe
This isn't just your regular chicken dinner. No, Marry Me Chicken is an adventure of flavors, with each bite more irresistible than the last. Imagine tender, juicy chicken thighs seasoned just right, then seared to perfection to seal in that golden, crisp exterior. These aren't just any chicken thighs, they're the star of the show in this knockout dish.
And let's not forget the supporting cast, because this isn't a solo performance. A tantalizing sauce with a delightful blend of robust sun-dried tomatoes, rich heavy cream, and fragrant Parmesan cheese brings it all together. With every spoonful of this creamy concoction, you're transported into a world of culinary excellence. It's no wonder this recipe has been shared, pinned, and recreated in kitchens worldwide – the proof is in the flavors!
Why You'll Love This Marry Me Chicken
Taste Explosion: This recipe isn't your typical chicken dish. Each ingredient is chosen and prepared to ensure that every bite you take is a dance of flavors on your tongue.
Viral Sensation: Ever wondered what it feels like to cook a viral recipe? Well, here's your chance. With millions of views online, the Marry Me Chicken recipe is loved by people around the globe.
Easy & Fast: In spite of its sophisticated taste profile, this recipe is surprisingly easy to prepare. It's perfect for both weeknight dinners when you're short on time and special occasions when you want to impress without too much stress in the kitchen. Plus, it's all made in one skillet, which means less washing up later!
Olive Oil: We're using this to sear our chicken thighs and give them a nice, golden crust. You can swap it out for canola oil or another high heat oil if you prefer.
Chicken Thighs: Bone-in, skin-on chicken thighs are the star of this dish. They're flavorful and stay juicy while baking. If you like, you could use boneless thighs or even chicken breasts, just keep in mind cooking times may vary.
Salt and Pepper: They're here for seasoning. You're welcome to adjust the amounts to taste.
Garlic: Fresh garlic will bring a wonderful depth of flavor. You could use garlic powder in a pinch, but fresh is best.
Dried Oregano: This will add a classic, robust flavor. Thyme or basil could also work.
Red Pepper Flakes: These bring a touch of heat. Feel free to adjust the amount to your preference or leave them out if you're not a fan of spice.
Chicken Broth: This is going to add a savory element to our sauce. Vegetable broth would be a good substitute if necessary.
Heavy Cream: This brings a velvety richness to the sauce. If you're trying to lighten it up, you could try half-and-half, but the sauce won't be as creamy.
Sun-Dried Tomatoes: They add a concentrated burst of tomato flavor. You could use cherry tomatoes as well, but they won't have the same intensity.
Parmesan Cheese: This lends a salty, nutty note to the dish. You can use Romano or Asiago if you'd prefer.
Fresh Parsley: It's here for a pop of freshness at the end. You can use basil instead if you like.
How To Make Marry Me Chicken
Alright, my friend, you're going to love how simple and easy this Marry Me Chicken recipe really is! Let's dive right in.
Preheating And Prepping
First things first, go ahead and preheat your oven to 375℉. As the oven heats up, grab your skillet and let's start with our chicken.
Searing The Chicken

In your large oven-safe skillet, heat up some olive oil over medium-high heat. Now, take those chicken thighs, season them generously with salt and pepper on both sides, then plop them into the skillet, skin side down. We're aiming for a golden sear, which should take about 4-5 minutes on each side. Once they're looking crispy and golden, transfer the chicken to a plate.
Building The Flavor Base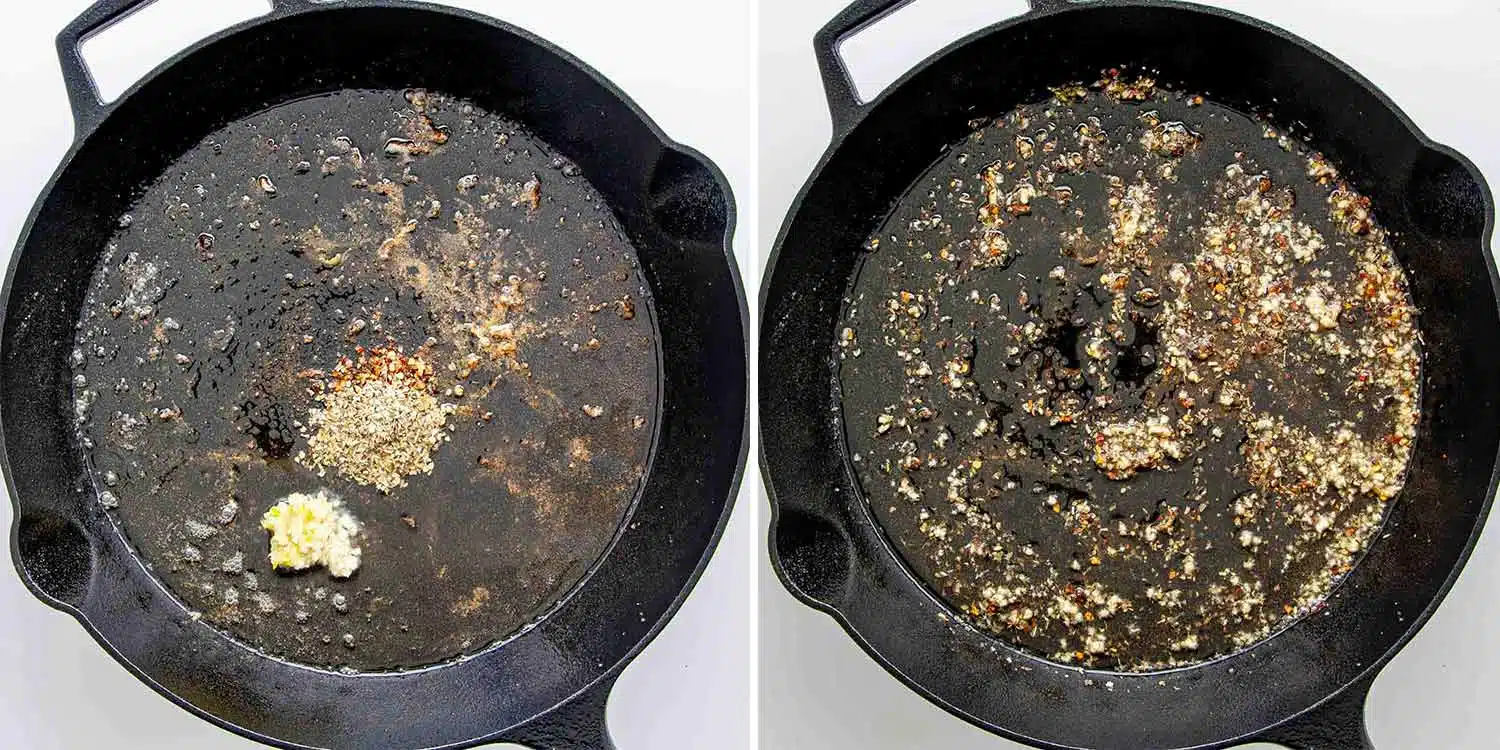 Now, with the skillet still on medium heat, it's time to make the place smell like heaven. Add the garlic, oregano, and red pepper flakes and cook them until they're fragrant. This usually takes about a minute.
Crafting The Creamy Sauce

Next up is our creamy sauce! Stir in the broth, heavy cream, sun-dried tomatoes, and Parmesan cheese. Give it a taste and adjust the seasoning as you see fit with more salt or pepper. Bring the sauce to a simmer and then return the chicken to the skillet, skin-side up.
Baking To Perfection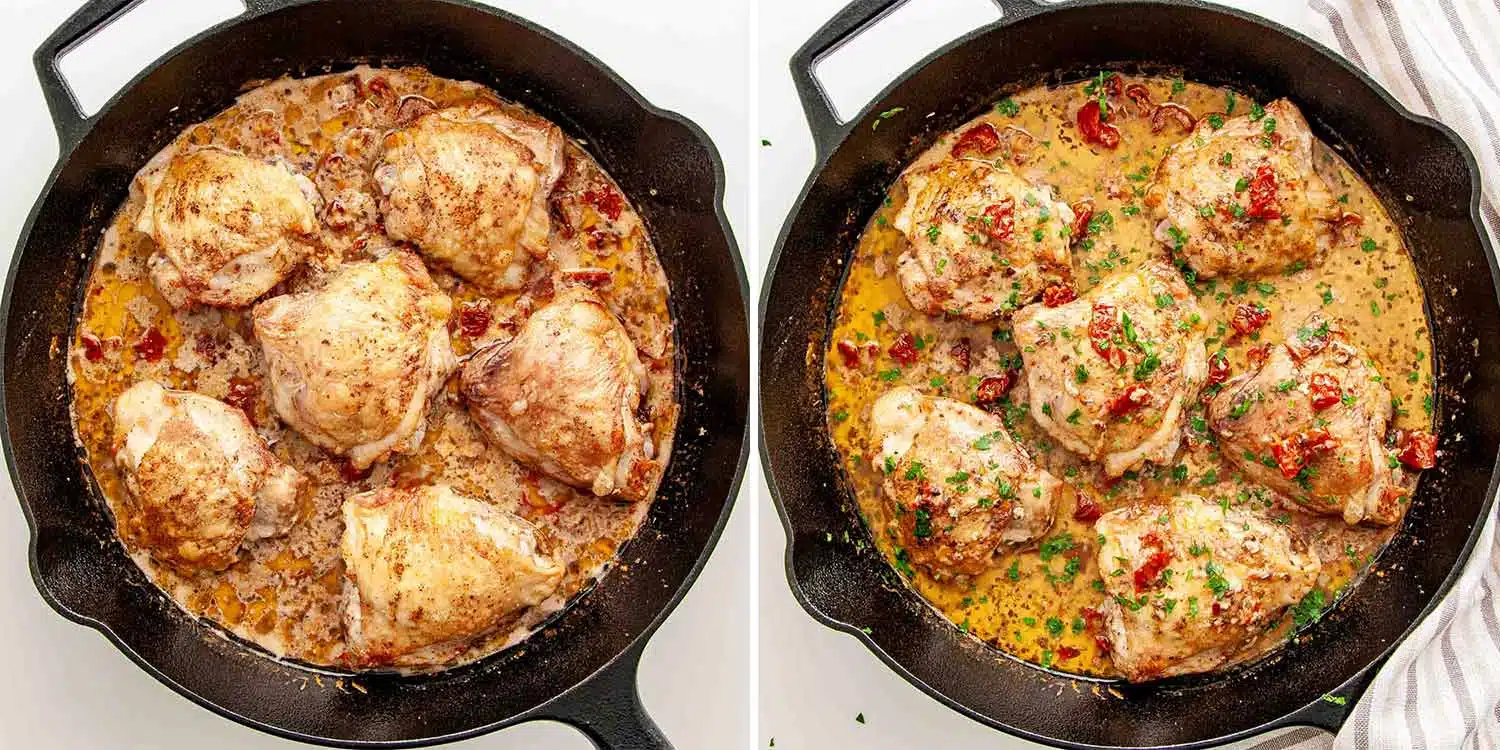 All that's left to do now is pop the skillet into your preheated oven. Bake it until the chicken is cooked through, which should take around 15 minutes.
Finishing Touches
Last but not least, garnish your dish with some fresh parsley or basil. Serve it over a bed of fluffy rice or with a side of steamed veggies, and you're ready to dig in!
Pro Tip
For the best flavor, make sure to use sun-dried tomatoes in oil, as they bring a rich, concentrated tomato taste that pairs perfectly with the creamy sauce. Don't rush the searing process, as it gives the chicken a delicious golden crust and locks in juices.
Frequently Asked Questions
What is Marry Me Chicken?
Marry Me Chicken is a popular and incredibly flavorful dish, made with seared chicken thighs in a creamy sun-dried tomato and parmesan sauce. The dish got its name from its irresistible taste that it's said to have the power to elicit a marriage proposal!
Can I use chicken breasts instead of thighs?
Yes, you absolutely can. However, chicken thighs are juicier and more flavorful. If you prefer chicken breasts, just make sure not to overcook them as they can become dry.
Can I use fresh tomatoes instead of sun-dried tomatoes?
The sun-dried tomatoes provide a concentrated, tangy tomato flavor that fresh tomatoes can't replicate. If you don't have sun-dried tomatoes on hand, you might try using a smaller amount of tomato paste instead.
Is there a dairy-free option for this recipe?
For a dairy-free version, you can substitute the heavy cream with a non-dairy milk like almond or coconut milk. You could also use a dairy-free cheese in place of the parmesan.
Expert Tips
Chicken Selection: Using bone-in, skin-on chicken thighs is crucial for this recipe. The bone and skin help to keep the meat moist while adding a ton of flavor.
Sun-Dried Tomatoes: Make sure you're using sun-dried tomatoes that are stored in oil for this recipe. They're softer and carry a more intense flavor than their dry-packed counterparts.
Searing is Key: Don't skip the step of browning the chicken. This creates a lovely crust and locks in the juices of the chicken, ensuring you get a tender and juicy result.
Adjust Heat: If you're sensitive to spice, feel free to reduce the quantity of red pepper flakes or leave them out altogether.
Cheese Matters: Using freshly grated Parmesan is highly recommended. Pre-grated cheese often contains additives that prevent it from melting smoothly.
Storage
Storing and reheating this Marry Me Chicken is a breeze! Just pop any leftovers in an airtight container and they'll stay fresh in the fridge for up to 4 days. When you're ready for round two of this irresistible dish, simply reheat it in a preheated oven at 325°F or warm it up gently on the stove. If you notice the sauce thickening too much, don't hesitate to stir in a splash of chicken broth to keep everything moist and flavorful.
Other Recipes You'll Love
Craving More? Follow Along:
Marry Me Chicken
Get ready to fall in love with Marry Me Chicken, a dish so flavorful and memorable it has sparked countless proposals. Imagine tender chicken thighs smothered in a creamy sauce infused with sun-dried tomatoes and Parmesan, with just the right hint of heat from red pepper flakes.
Prep: 10 minutes
Cook: 35 minutes
Total : 45 minutes
serves: 6
Ingredients
1 tablespoon olive oil
2 pounds chicken thighs bone-in, skin-on, about 6
½ teaspoon salt or to taste
¼ teaspoon pepper or to taste
3 cloves garlic minced
1 teaspoon dried oregano
½ teaspoon red pepper flakes
¾ cup chicken broth low sodium or no sodium added
½ cup heavy cream
½ cup sun-dried tomatoes chopped
¼ cup Parmesan cheese freshly grated
1 tablespoon fresh parsley chopped, or basil for garnish
Instructions
Preheat the oven to 375℉.

In a large, oven-safe skillet heat the olive oil over medium-high heat.

Season the chicken generously with salt and pepper on both sides then add it to the skillet skin side down and sear it for 4 to 5 minutes until golden. Flip and sear the other side for another 4 to 5 minutes. Transfer the chicken to a plate.

Turn the heat down to a medium and it the same skillet add garlic, oregano, and red pepper flakes. Cook until fragrant, 1 minute, then stir in broth, heavy cream, sun-dried tomatoes, and Parmesan cheese. Taste for seasoning and adjust as necessary with more salt or pepper. Bring to a simmer, then return chicken to skillet, skin-side up.

Transfer the skillet to the preheated oven and bake until the chicken is cooked through, around 15 minutes.

Garnish with parsley or basil and serve over rice or with a side of steamed vegetables.
Tips & Notes:
You can substitute chicken breasts for the thighs, but adjust cooking time as needed to avoid drying out the meat.
Freshly grated Parmesan is recommended for its superior taste and melting qualities.
If sun-dried tomatoes are too tangy for your liking, try using roasted red peppers for a sweet, smoky alternative.
Pair this dish with a side of rice or steamed vegetables to balance out the creamy richness of the chicken.
While heavy cream is recommended for a richer flavor, you can substitute with half-and-half or a dairy-free alternative.
Store leftover chicken in a shallow, airtight container in your fridge for 4 days.
nutrition facts
Serving: 1serving Calories: 418kcal (21%) Carbohydrates: 7g (2%) Protein: 25g (50%) Fat: 32g (49%) Saturated Fat: 11g (69%) Polyunsaturated Fat: 5g Monounsaturated Fat: 13g Trans Fat: 0.1g Cholesterol: 151mg (50%) Sodium: 387mg (17%) Potassium: 644mg (18%) Fiber: 1g (4%) Sugar: 4g (4%) Vitamin A: 616IU (12%) Vitamin C: 5mg (6%) Calcium: 94mg (9%) Iron: 2mg (11%)