This Lemon Dill Pan Fried Salmon really is simplicity at its best. In 20 minutes you can have this incredibly delicious lemon dill salmon that requires only a handful of ingredients!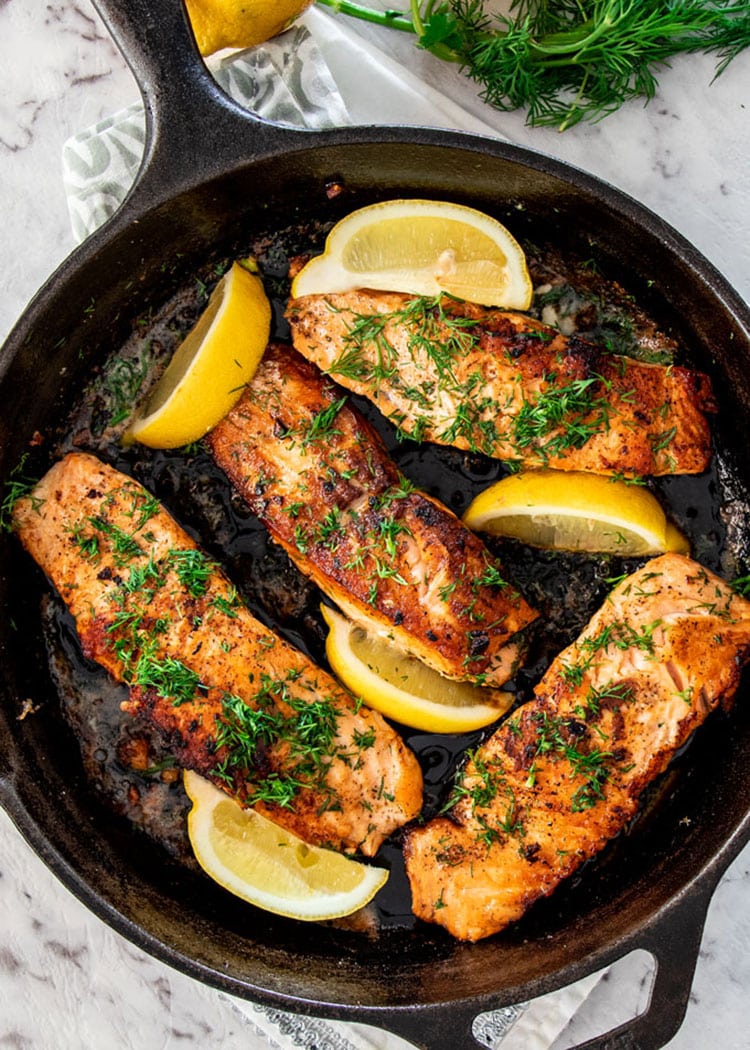 I used to love eating salmon, it was pretty much the only thing I'd order whenever we'd go to a restaurant. Until one day I had enough and stopped eating salmon for years. But in my forever quest of cooking and eating healthier (not always successful), I brought salmon back into our diets.
I'm back to liking it now and I have actually cooked it almost every week for the past few months. I just hope I don't go back to hating it soon. I always say I really need to eat more seafood and less beef or pork.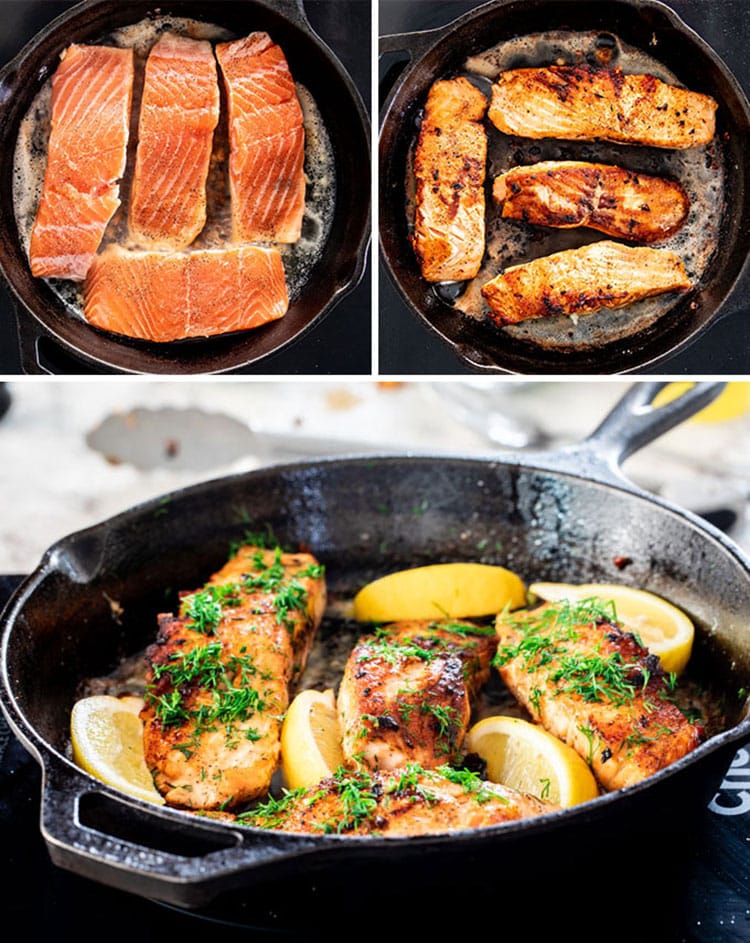 On the occasions that I do cook with salmon, I like to keep it simple, pretty much as with my other recipes. However, one of my all time favorite ways to have salmon is pan seared like this with fresh lemon juice and lots of dill.
As a matter of fact, when I think of what goes well on salmon, lemon and dill always come to mind first. It's like a marriage made in heaven.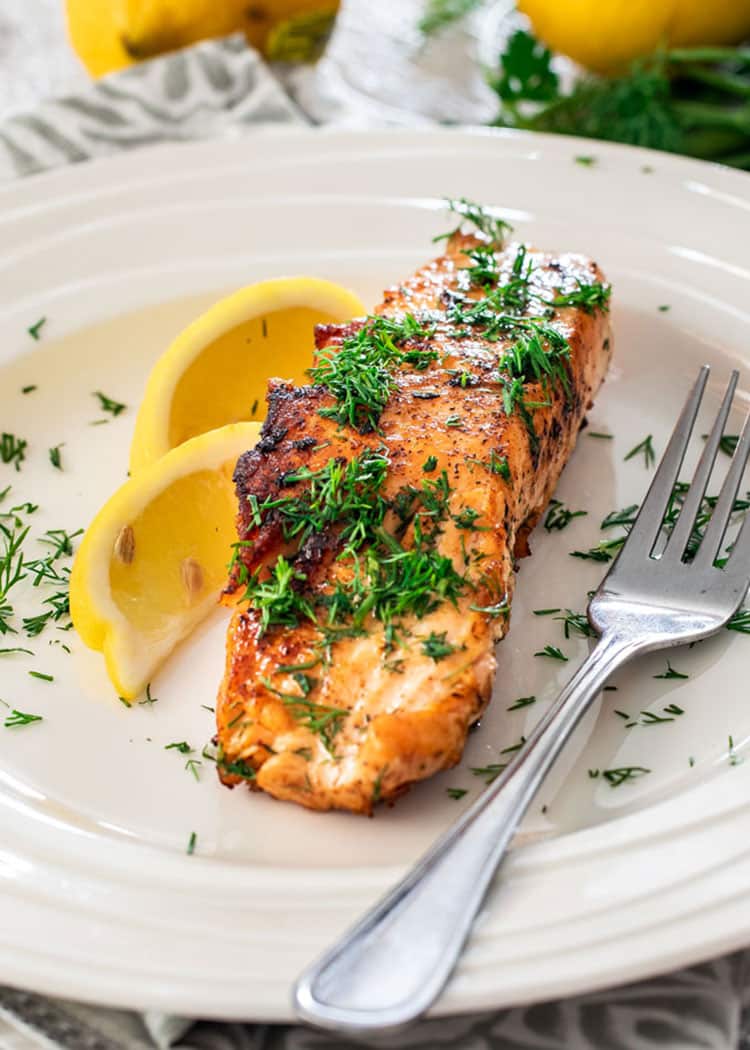 TIPS FOR COOKING THE PERFECT LEMON DILL PAN FRIED SALMON:
Bring the salmon to room temperature before cooking the fillets. If cold fish is added to a hot pan, the fillet will seize up and will cook unevenly. Taking the fish out of the fridge about 15 minutes prior to cooking is ideal.
Pat down the salmon with paper towels to dry before actually adding the salmon to the skillet. If they fillets are moist or wet they are more likely to stick to the pan.
Make sure your skillet is really hot before cooking and then keep the heat to a medium-high.
Don't try to flip the salmon if it's sticking. When the salmon is cooked, it will release from the pan and you can easily flip it.
If you try this recipe, please let us know! Leave a comment, rate it and tag a photo #cravinghomecooked on Instagram so we can see it. I always love to see what you guys come up with!
Craving More? Follow Along:
Lemon Dill Pan Fried Salmon
This Lemon Dill Pan Fried Salmon really is simplicity at its best. In 20 minutes you can have this incredibly delicious lemon dill salmon that requires only a handful of ingredients!
Prep: 10 mins
Cook: 10 mins
Total : 20 mins
serves: 4
Ingredients
1 lb salmon skinless, cut into 4 fillets
2 tbsp olive oil
1 tbsp butter
1/4 tsp salt or to taste
1/2 tsp pepper or to taste
2 tbsp lemon juice freshly squeezed
2 tbsp dill fresh, chopped
Instructions
Take out the salmon fillet 15 minutes prior to cooking. Pat dry the salmon fillets using a paper towel or a clean dish towel. This will prevent them from sticking to the skillet.

Heat a skillet over medium-high heat. Use a cast iron skillet or a stainless steel skillet. Add the olive oil and butter and heat until butter melts and starts to bubble. Make sure the oil and butter coats the entire surface of the skillet.

Season the salmon with salt and pepper just before adding to the hot skillet, then add the fillets to the pan. If using fillets with skin, place skin-side down first. I usually can add all 4 fillets at once and my skillet is 10 1/4 inches in diameter.

Cook the fillets for about 6 to 7 minutes for the first side. The first side takes the longest to cook. As the fish cooks you'll notice the color of the fillet will begin to lighten, starting at the bottom.

Flip the fillets and cook for an additional 3 minutes on the other side. When you try to flip the fillets if they don't release easily, cook for another minute until they release. The salmon is done cooking when it looks opaque. Remove from heat.

Sprinkle the salmon with the freshly squeezed lemon juice and garnish with lots of dill.

Serve immediately.
Tips & Notes:
Refrigerate leftover salmon in an airtight container for up to 3 days.   ★ Did you make this recipe? Don't forget to give it a star rating below!
nutrition facts
Serving: 1fillet Calories: 250kcal (13%) Protein: 22g (44%) Fat: 17g (26%) Saturated Fat: 3g (19%) Cholesterol: 70mg (23%) Sodium: 220mg (10%) Potassium: 555mg (16%) Vitamin A: 150IU (3%) Vitamin C: 2.9mg (4%) Calcium: 14mg (1%) Iron: 0.9mg (5%)