Bursting with lemon, capers, and onions, this homemade Tartar Sauce is perfect for seafood. Ditch store-bought and make it in minutes!
Homemade Creamy Tartar Sauce
Creamy tartar sauce is the ultimate condiment for seafood lovers! Made from a simple blend of mayonnaise along with a few other ingredients like lemon juice, pickles, and capers, most folks buy it in a jar and serve it alongside fried seafood. But did you know that you can easily make your own tartar sauce?! It's ridiculously simple to whip up!
Plus, the best part is that you can customize it any way you like! Whether you're serving kid-friendly fried fish and chips, fancy crab cakes, or classic fish sandwiches, you can adjust the recipe to suit any dish. All you need is some mayo and a few other basic ingredients.
Why You'll Love This Tartar Sauce
Quick and Easy! Making your own tartar sauce has never been easier! With just a few simple ingredients and very little effort, you can whip this recipe together in no time! 
Nothing Beats Homemade! No more settling for store-bought tartar sauce. With the perfect creamy texture from the mayo and the tangy flavor of the pickles and capers, this homemade version is sure to elevate your seafood dinners to new heights. 
Versatile Condiment! While tartar sauce is famously paired with fried seafood, don't limit yourself. This delicious tangy sauce complements a variety of dishes, including juicy burgers, refreshing shrimp salads, and even crispy chicken nuggets. 
Mayonnaise – The creamy base that gives the sauce its richness and texture. Both store-bought and homemade mayonnaise work well. For a plant-based variation, you can use vegan mayo.
Sweet Pickle Relish – Provides a delightful hint of sweetness and a satisfying crunch. If you don't have pickle relish, finely chopped sweet pickles will work as well. For a different twist, you can also use dill pickles or butter pickles.
Lemon Juice – Freshly squeezed lemon juice infuses it with a zesty kick that brightens the sauce.
Fresh Parsley – Chopped parsley adds a burst of freshness and a pop of green color to the sauce. Fresh dill, tarragon, and chives are also wonderful herbs in tartar sauce.
Capers – These tiny wonders pack a briny punch of flavor that makes the sauce.
Onion – Finely chopped brown onion brings a sharp and pungent note. For a milder flavor with a touch of sweetness, shallots are a great second choice.
Seasonings – Salt and black pepper are needed to season the sauce and enhance its flavor.
How To Make Tartar Sauce
This homemade tartar sauce recipe is super quick and easy! With just a handful of simple ingredients that you likely already have on hand, you can make this tasty condiment in just a few minutes.
Make The Sauce

To begin, mix the mayonnaise and pickle relish together in a small bowl. Then mix the fresh lemon juice into the mixture until it's well combined. Finally, add the finely chopped fresh parsley, capers, and onions. Now, stir everything together until the ingredients are fully incorporated.
Season To Taste
After you've made your sauce, give it a taste and then season it with salt and black pepper to your liking. You may find that it doesn't need much salt as the mayo, relish, and capers are all fairly salty ingredients. Keep in mind that you can also add more salt later, but you can't remove salt.
Chill And Serve
Once the sauce is seasoned, cover it with plastic wrap or transfer it to an airtight container. Then put it in the fridge for at least 30 minutes to let the flavors meld and intensify. This step is important for the tartar sauce to reach its full flavor potential.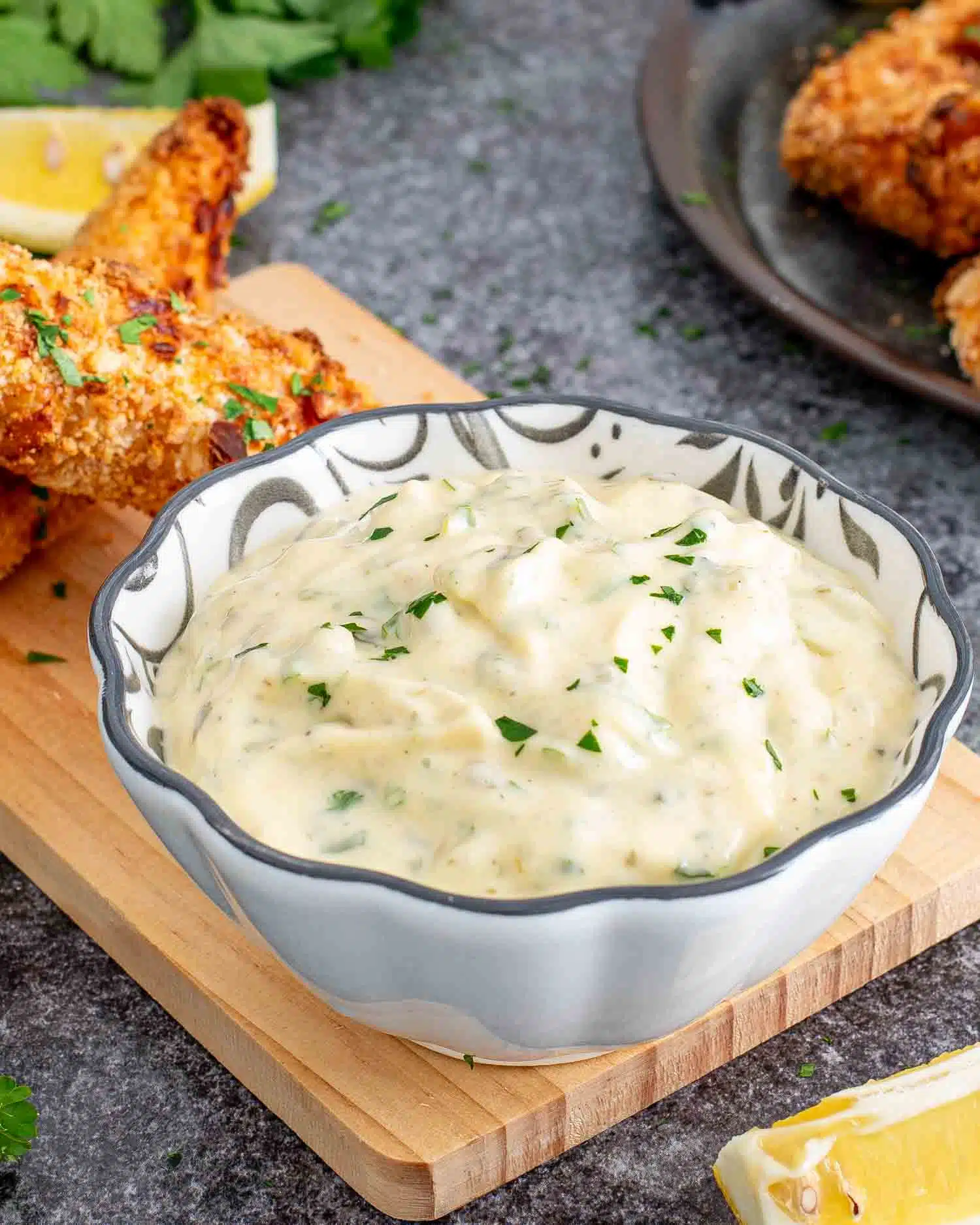 Frequently Asked Questions
What can I add to the tartar sauce?
Anything you like! Popular additions include fresh herbs, mustard, hot sauce, lemon zest, minced garlic, and even horseradish. Feel free to be creative and enjoy the endless possibilities!
Can I make tartar sauce ahead of time?
Absolutely! In fact, it's even better. Just make sure that you consume the sauce within 7 days. 
What can I serve tartar sauce with besides seafood?
While tartar sauce is a classic accompaniment to seafood, it's also fantastic when used as a dipping sauce for chicken or vegetables, or slathered on sandwiches or burgers.
Can I substitute the mayonnaise?
Yes! Both Greek yogurt and sour cream work. Keep in mind that this may slightly alter the flavor and texture.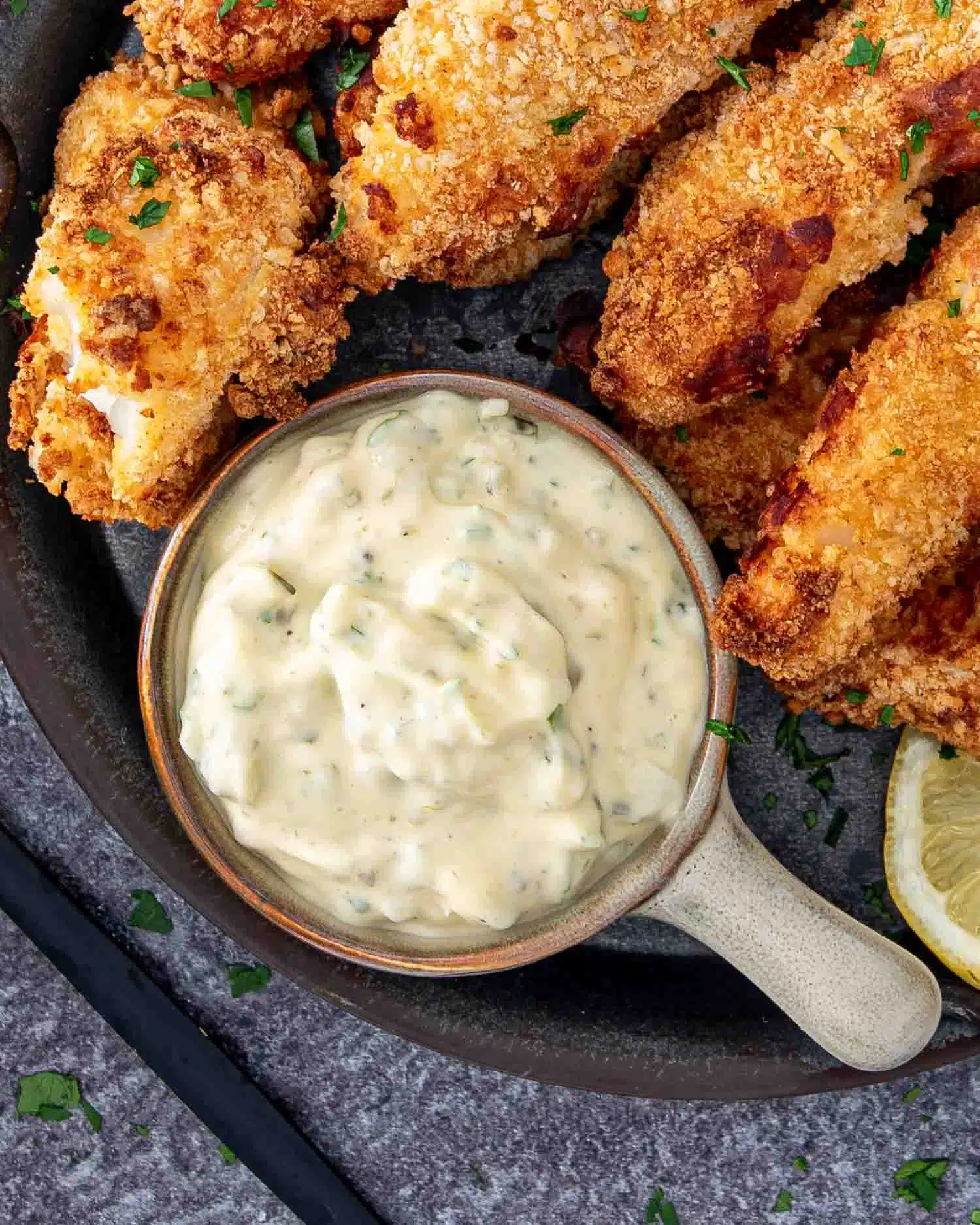 Expert Tips
Season with care. The mayonnaise, capers, and pickles already contribute quite a bit of saltiness, so make sure to taste your finished sauce before adding more salt.
Let it chill. You must refrigerate the sauce for a minimum of 30 minutes to allow the flavors to intermingle and fully develop. 
Add some heat. Incorporate a splash of hot sauce or a generous sprinkle of red pepper flakes to add some spiciness. For a milder touch of heat, use Dijon mustard.
Keep it cold. Avoid leaving the sauce out at room temperature for an extended period. Tartar sauce is perishable and will begin to spoil if left out for more than 4 hours. 
Storage
Homemade tartar sauce will keep in the fridge for up to 7 days when stored in an airtight container or covered with plastic wrap. Unlike store-bought versions that can keep longer, homemade sauce doesn't contain any preservatives, which is why it's best enjoyed within a week.
Discover More Recipes
Craving More? Follow Along:
Tartar Sauce
Say goodbye to store-bought Tartar Sauce and embrace this creamy, zesty homemade version. Perfect with any seafood, it's easily whipped up in minutes for a fresh and tangy twist.
Prep: 5 minutes
Cook: 5 minutes
Total : 40 minutes
Chilling Time : 30 minutes
serves: 10
Ingredients
1 cup mayonnaise
¼ cup sweet pickle relish
1 tablespoon lemon juice freshly squeezed
1 tablespoon fresh parsley finely chopped
1 tablespoon capers finely chopped
1 tablespoon onion finely chopped
salt and pepper to taste
Instructions
In a small mixing bowl, combine the mayonnaise and pickle relish.

Add the fresh lemon juice and mix well to incorporate.

Add the finely chopped fresh parsley, capers, and onion or shallot to the bowl.

Season the tartar sauce with salt and pepper to taste. Mix well to combine all the ingredients.

Cover the bowl with plastic wrap or transfer the sauce to an airtight container. Refrigerate the tartar sauce for at least 30 minutes to allow the flavors to meld.

Store any leftover sauce in the refrigerator for up to one week.
Tips & Notes:
Recipe yields approximately 1¼ cups of tartar sauce. 
1 serving assumes 2 tablespoons.
Adjust to Taste: Feel free to customize the tartar sauce by adjusting the quantities of lemon juice, pickles, and capers to suit your taste preferences.
Storage: Store any leftover tartar sauce in an airtight container in the refrigerator. It will keep for up to a week.
Serving Suggestions: This sauce pairs beautifully with fried fish, crab cakes, shrimp, or as a dip for vegetables.
Mayonnaise Base: For a lighter version, you can substitute half of the mayonnaise with Greek yogurt.
nutrition facts
Serving: 1serving Calories: 161kcal (8%) Carbohydrates: 3g (1%) Protein: 0.3g (1%) Fat: 17g (26%) Saturated Fat: 3g (19%) Polyunsaturated Fat: 10g Monounsaturated Fat: 4g Trans Fat: 0.04g Cholesterol: 9mg (3%) Sodium: 214mg (9%) Potassium: 12mg Fiber: 0.1g Sugar: 2g (2%) Vitamin A: 124IU (2%) Vitamin C: 1mg (1%) Calcium: 3mg Iron: 0.1mg (1%)