This quick and easy beefy cheesy Tater Tot Casserole is a delicious classic comfort food that your whole family will love! Made with a bag of frozen tater tots, a can of soup, some ground beef, and shredded cheddar cheese all baked together in the oven, this dish is layers of yumminess and nearly effortless to make!
Easy Tater Tot Casserole Recipe
I know you're thinking, a tater tot casserole!?! Really? Trust me. This super beefy, cheesy, crunchy potato concoction is insanely good and really easy to make. And just like Funeral Potatoes, this dish has its roots in the Midwest where a can of cream soup is often mixed together with meat and a starch to make an affordable delicious casserole.
This tasty tater tot casserole recipe is basically crispy tater tots layered on top of a mixture of ground beef mixed together with cream of mushroom soup and then covered in gooey cheddar cheese. It's like a one-layer lasagna of beef, tater tots, and cheese!
Not to mention, it's made with frozen tater tots and a can of soup! Cooking doesn't get much easier than that. You don't even have to cook the potatoes separately or thaw them out. I know it sounds crazy but once you try it you will be sold and ready to take it to your next potluck!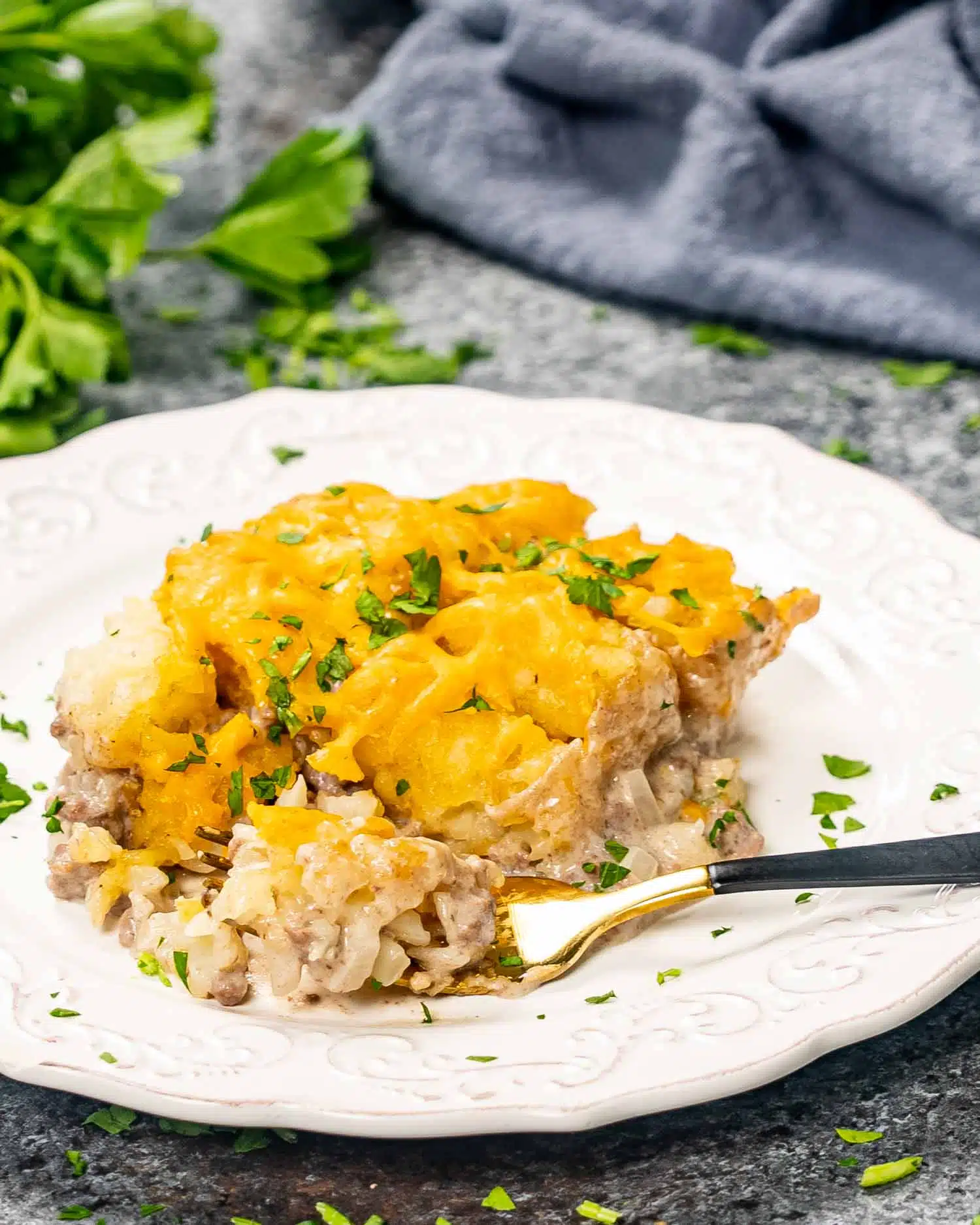 Why You'll Love This Tater Tot Casserole
Easy Recipe! This simple recipe is made with just 10 basic ingredients, which include a bag of frozen potatoes, a can of soup, and cheese. So it requires very little prep. 
Beefy Cheesy Taters! Crispy crunchy tater tots on a layer of creamy beef and then covered in melted cheese is a delicious combination of comforting flavors. 
Crowd Pleaser! You can serve this dish for dinner or at your next potluck or party! It's a fantastic quick and easy recipe that works for almost any occasion. 
Ground Beef – I normally use lean ground beef, but any type of ground beef will work. You can even use ground pork or ground turkey if you prefer.
Cream of Mushroom Soup – You need a can of condensed cream of mushroom soup to make the casserole creamy. You can also use cream of celery soup or cream of chicken soup.
Sour Cream – Adds another layer of creaminess and a nice touch of tang.
Onion – I like to use brown onion for the most flavor, but any onion you have on hand will do the trick.
Garlic Powder – You can also use fresh minced garlic if you like.
Salt – Potatoes always need a dash of salt to season them.
Black Pepper – Regular ground black pepper is perfect.
Tater Tots – You need a bag of frozen tater tots. Any brand can be used.
Cheddar Cheese – You can use any kind of shredded cheddar you like to make the casserole cheesy.
Parsley – Fresh chopped parsley is used as a garnish and to add a little herb flavor.
How To Make Tater Tot Casserole
This recipe is nearly effortless! Most of the ingredients are pre-made so once the beef is browned all you have to do is bake everything together and serve!
Preheat The Oven
To start, preheat your oven to 375°F (190°C) so that it's already hot once the casserole is assembled. Then grab a 9×13 inch casserole dish and set it aside.
Brown The Ground Beef
Next, add the ground beef to a large skillet and cook it over medium-high heat until it's done while breaking it up with a wooden spoon. The beef will no longer be pink when it's cooked through. Then drain any excess fat from the cooked meat.
Make The Meat Layer
Once the beef is cooked, mix in the cream of mushroom soup, sour cream, chopped onion, garlic powder, salt, and black pepper with the cooked ground beef in the skillet. Then mix everything together well.
Assemble The Casserole
Now, pour the beef mixture into your 9×13 inch baking dish. Then lay the frozen tater tots on top of the beef in a single layer. Next, sprinkle the potatoes with the shredded cheese and your casserole is ready to bake!
Bake The Casserole
After assembling the dish, transfer it to the preheated oven and bake for 30 to 35 minutes until the tater tots are crispy and the cheese is melted. Then remove it from the oven and allow it to cool for 5 minutes to set. Finally, garnish the casserole with some chopped parsley if you like, and serve it immediately.
What Can I Add To The Casserole?
This easy casserole recipe is really versatile, so you can add anything you like. The easiest way to do it is to mix things into the meat mixture. For example, you could add some cooked bacon, chopped jalapenos, diced tomatoes, salsa, corn, or frozen vegetables. You can also use any type of condensed cream soup or cheese you like.
What Is The Difference Between Tater Tot Hotdish And Casserole?
They are exactly the same thing! Some people call Tater Tot Casserole "Tater Tot Hotdish." However, others debate that "casserole" is the name of the dish, while "hot dish" refers to the meal.
Expert Tips
Brown the meat well. Make sure to cook the ground beef properly and break it up so that it browns evenly. This will make the casserole more flavorful. 
Use frozen tater tots. The tater tots must still be frozen when the casserole is assembled and before it goes into the oven. The tots will not get crispy if they are thawed.
Don't overbake the casserole. Set a timer to make sure you don't forget about the casserole in the oven. You want the cheese to be melted but not burnt. 
Storage
Leftover tater tot casserole will keep in the refrigerator for up to 5 days in an airtight container or wrapped in plastic wrap. To reheat, just put it in the microwave for a few minutes on medium heat or in the oven at 350°F (176°C) for about 10 minutes. You can also store the leftovers in the freezer for up to 3 months and then let them thaw out overnight in the fridge before reheating.
Other Delicious Casseroles To Try
Craving More? Follow Along:
Tater Tot Casserole
This easy-to-follow recipe yields a deliciously cheesy Tater Tot Casserole that's perfect for a cozy family dinner. The combination of creamy mushroom soup, ground beef, and crispy tater tots is sure to be a crowd-pleaser. Plus, with only a few simple ingredients, it's a quick and easy meal that's perfect for busy weeknights.
Prep: 15 minutes
Cook: 45 minutes
Total : 1 hour
serves: 8
Ingredients
1 pound ground beef
10.5 ounces condensed cream of mushroom soup 1 can
1 cup sour cream
1 medium onion chopped
½ teaspoon garlic powder
salt and pepper to taste
16 ounces frozen tater tots 1 package
1½ cups cheddar cheese shredded
1 tablespoon fresh parsley chopped
Instructions
Preheat the oven to 375°F (190°C).

Brown the ground beef in a large skillet over medium-high heat until fully cooked. Drain off any excess fat.

Add the cream of mushroom soup, sour cream, chopped onion, garlic powder, salt, and pepper to the skillet with the ground beef. Mix everything together until fully combined.

Pour the ground beef mixture into a 9×13 inch baking dish.

Arrange the frozen tater tots on top of the beef mixture in a single layer.

Sprinkle shredded cheddar cheese over the top of the tater tots.

Transfer the baking dish to the preheated oven and bake for 30-35 minutes or until the tater tots are crispy and the cheese is melted and bubbly.

Remove from the oven and let cool for 5 minutes.

Garnish with chopped parsley (optional) and serve hot.
Tips & Notes:
Use high-quality ground beef: When making this casserole, using high-quality ground beef will make all the difference in the flavor and texture of the dish.
Add some extra flavor: Try adding additional seasoning to the beef mixture, such as Worcestershire sauce, hot sauce, or paprika, to give the dish an extra kick of flavor.
Let the casserole cool before serving: Allowing the casserole to cool for a few minutes after taking it out of the oven will help the cheese and other ingredients to set, making it easier to serve and enjoy.
Customize the recipe to your liking: This casserole is a versatile dish that can be easily customized to your preferences. For example, you could add vegetables like mushrooms or spinach, or substitute ground turkey for the beef.
Don't skimp on the cheese: Cheese is a key ingredient in tater tot casserole, so make sure to use plenty of it and choose a high-quality cheddar cheese for the best flavor.
nutrition facts
Serving: 1serving Calories: 360kcal (18%) Carbohydrates: 15g (5%) Protein: 18g (36%) Fat: 25g (38%) Saturated Fat: 12g (75%) Polyunsaturated Fat: 1g Monounsaturated Fat: 8g Trans Fat: 1g Cholesterol: 80mg (27%) Sodium: 454mg (20%) Potassium: 516mg (15%) Fiber: 2g (8%) Sugar: 2g (2%) Vitamin A: 435IU (9%) Vitamin C: 13mg (16%) Calcium: 201mg (20%) Iron: 2mg (11%)