Bursting with flavor and ridiculously easy, this one-pan Mediterranean Chicken and Rice Skillet makes a tasty meal any night of the week! Made with healthy chicken breast cooked together with rice in a flavorful combination of classic Mediterranean ingredients this delicious recipe comes together in just 45 minutes!
Easy Mediterranean Chicken And Rice Skillet
Meals made in a skillet are the new one-pot way to go! While you can't beat a bowl of comforting Chicken Rice Soup or hearty Instant Pot Beef Stew, there is so much more to one-pot meals than just soups and stews. And this tasty Mediterranean chicken and rice skillet recipe is a perfect example!
Inspired by the flavors of the Mediterranean, this delicious one-pan recipe is healthy and gluten-free. It's made with lean chicken breasts and fluffy rice all cooked together with chunky diced tomatoes, salty kalamata olives, roasted red bell peppers, herby oregano, and a bit of red pepper flakes for spice. The dish is then finished with a sprinkle of feta cheese and slices of lemon to serve. This easy meal is layered with flavor! 
But just like my Southwest Chicken and Rice Skillet the real key to this dish is the ratio of rice to liquid. So it's important that you follow the recipe and not add any additional liquids unless you remove some first. But if you cook rice a lot you know this already!
Why You'll Love This Mediterranean Chicken And Rice
Simple Recipe! With almost no prep involved, this easy one-pan recipe takes no time to throw together and under 40 minutes to cook. Not to mention, there is only the skillet to clean!
Classic Mediterranean Flavor! This recipe takes classic chicken and rice and infuses it with Mediterranean flavors with ingredients like kalamata olives, roasted red peppers, and feta cheese.
Weeknight Meal! This is a fantastic recipe for busy weeknights! Your entire family will love this unbelievably good chicken dish and it's healthy, filling, and affordable to make.
Chicken – You will need boneless skinless chicken breasts. You can also use boneless skinless chicken thighs if you prefer.
Seasonings – Salt and black pepper are used to season the chicken and the dish.
Olive Oil – I like to use extra-virgin olive oil for the added flavor. But you can use any vegetable oil.
Onion – Brown is the best choice for the most flavor, but any type of onion you have on hand is fine.
Garlic – Always use fresh minced garlic. Store-bought garlic that you can buy in jars is often bitter and full of preservatives.
Long Grain Rice – Jasmine rice and basmati rice are good options. But I don't recommend using short-grain rice or brown rice.
Canned Diced Tomatoes – Adds a little taste of tomato and chunky texture to the dish.
Chicken Broth – I use store-bought low-sodium chicken broth or make my own chicken stock to control the amount of added salt. You can also use vegetable broth if you prefer.
Kalamata Olives – A type of Greek olive commonly used in Mediterranean cuisine. You can use black olives.
Roasted Red Peppers – This is a popular Mediterranean ingredient. You will find them sold in jars or cans near the olives and pickles at any grocery store.
Spices – Dried oregano, sweet paprika, and red pepper flakes are used to season the dish. Just omit the red pepper flakes if you don't like spice.
Feta Cheese – Used to give the dish a nice cheesy finish.
Fresh Parsley – Used for garnish and it adds a bit of freshness and color to the rice.
Lemon – No Mediterranean chicken recipe would be complete without some fresh lemon. In this case, it's used to finish the dish.
How To Make Mediterranean Chicken And Rice
This one-pan Mediterranean chicken is super easy! The chicken breast and rice cook together in the same skillet which makes this a nearly effortless recipe with very little cleanup.
Sauté The Chicken
To begin, you need to pat the chicken breasts dry with paper towels. This helps them to sear better. Then generously season them on both sides with salt and pepper. Next, heat the olive oil over medium heat in a large skillet. Then add the chicken to the hot pan and cook the breasts on each side for about 4 to 5 minutes or until browned and partially cooked. Now, transfer the chicken to a plate and set it aside for a later step.
Sauté The Onion And Garlic
For this next step, add the chopped onions to the same skillet that you just cooked your chicken. Then let them cook for about 3 to 4 minutes until they are soft and translucent. Now, add the minced garlic and cook it with the onions for just 1 minute more. 
Add The Rice And Steam
Now, add the uncooked rice, diced tomatoes with their juice, chicken broth, Kalamata olives, roasted red peppers, oregano, paprika, and crushed red pepper flakes to the pan. Then stir everything together well and bring it to a boil.
Next, place the partially cooked chicken breasts in a single layer on top of the rice mixture. Now, reduce the heat to a simmer, cover the skillet with a tight-fitting lid, and then let the dish cook for about 20 to 25 minutes. Do not remove the lid for at least 20 minutes. When the dish is ready the rice will tender and the chicken will no longer be pink inside and fully cooked through.
Garnish And Serve
Once the chicken and rice are fully cooked, take the pan off the heat. Then sprinkle the Mediterranean chicken and rice skillet with the crumbled feta cheese, fresh chopped parsley, and lemon slices to garnish and it's ready to serve. 
Can I Cook Rice With Raw Meat?
You can, but for this Mediterranean chicken and rice skillet, the chicken breasts should be partially cooked first. The reason for this is that the chicken breast has a longer cooking time than the rice. If you just plop them on top of the uncooked rice they most likely won't be done when the rice is ready, which means that you will most likely end up with overcooked rice. Plus, searing the chicken first adds lots of flavor to the dish.
Can I Use Brown Rice?
Yes, you can use brown rice instead of Jasmine rice, but you may need to increase the cooking time and add more liquid to ensure that the rice cooks properly.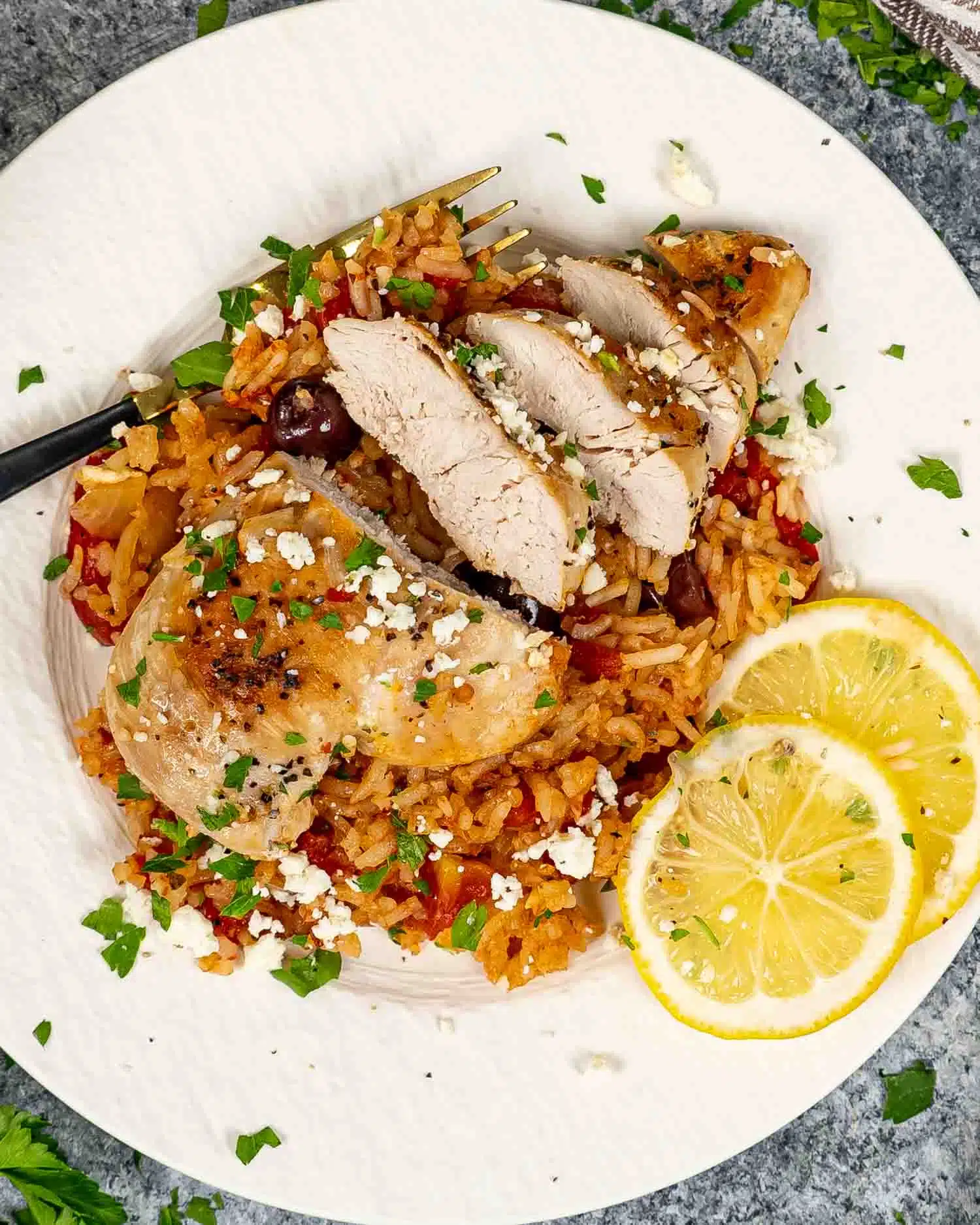 Expert Tips
Rinse the rice before cooking. For the most tender and fluffy rice, you should rinse it in a fine mesh strainer under cool running water to remove any debris or excess powdery starch. 
Do not disturb the lid. The rice needs to cook for at least 20 minutes with the lid tightly secured before you peek to see if the dish is ready. Lifting the lid sooner will disrupt the steaming process.
Temp the chicken. To ensure that the chicken breasts are fully cooked you can use an instant-read digital meat thermometer to check to see that they have reached at least 165°F (74°C).
Storage
Leftover Mediterranean chicken and rice skillet will keep in the fridge for up to 4 days or in the freezer for up to 3 months in an airtight container. To reheat, sprinkle them with a bit of water and then heat them covered in the microwave for a few minutes on medium power. You can also reheat them in a saucepan on the stovetop. However, if the leftovers have been frozen, you need to let them thaw out in the fridge overnight before reheating.
Other Delicious One Pot Recipes To Try
Craving More? Follow Along:
Mediterranean Chicken And Rice Skillet
Transport your taste buds to the sunny Mediterranean with my easy-to-make Chicken and Rice Skillet. Tender chicken, fragrant rice, and a medley of veggies come together for a flavorful one-pan meal that's sure to impress!
Prep: 15 minutes
Cook: 40 minutes
Total : 55 minutes
serves: 4
Ingredients
4 chicken breasts boneless and skinless
salt and pepper to taste
2 tablespoons olive oil
1 large onion chopped
3 cloves garlic minced
1 cup long-grain rice uncooked, such as Jasmine rice
1 cup diced tomatoes canned
1 cup chicken broth low sodium
½ cup Kalamata olives pitted and halved
½ cup roasted red peppers sliced
1 teaspoon dried oregano
½ teaspoon sweet paprika
¼ teaspoon red pepper flakes
¼ cup feta cheese crumbled
¼ cup fresh parsley chopped
1 lemon sliced, for garnish
Instructions
Pat the chicken breasts dry and season on both sides with salt and pepper.

In a large skillet, heat the olive oil over medium heat. Add the chicken breasts and cook for about 4-5 minutes per side, or until they are browned and almost cooked through. Remove the chicken from the skillet and set aside.

In the same skillet, add the chopped onion and cook for about 3-4 minutes, or until softened. Add the minced garlic and cook for an additional 1 minute.

Stir in the uncooked rice, diced tomatoes with their juice, chicken broth, Kalamata olives, roasted red peppers, oregano, paprika, and crushed red pepper flakes (if using). Mix well.

Place the partially cooked chicken breasts on top of the rice mixture in the skillet. Reduce the heat to low, cover, and cook for about 20-25 minutes, or until the rice is cooked through and the chicken is no longer pink in the center.

Remove the skillet from heat. Sprinkle the crumbled feta cheese, chopped fresh parsley, and lemon slices on top of the chicken and rice.

Serve immediately.
Tips & Notes:
Patting the chicken dry before seasoning it helps to ensure that it browns evenly and develops a nice crust.
Use a large skillet to ensure that the chicken and rice cook evenly.
Don't skip the step of browning the chicken before cooking the rice – this helps to add flavor to the dish.
If you prefer a spicier dish, you can increase the amount of red pepper flakes used.
For a more authentic Mediterranean flavor, you can substitute the Kalamata olives with other varieties of olives, such as Castelvetrano or Nicoise.
Make sure to use low-sodium chicken broth to avoid making the dish too salty.
Let the dish sit for a few minutes after cooking to allow the flavors to meld together and for the rice to absorb any remaining liquid.
Leftovers can be stored in an airtight container in the refrigerator for up to 3-4 days.
nutrition facts
Serving: 1serving Calories: 590kcal (30%) Carbohydrates: 49g (16%) Protein: 56g (112%) Fat: 18g (28%) Saturated Fat: 4g (25%) Polyunsaturated Fat: 2g Monounsaturated Fat: 9g Trans Fat: 0.03g Cholesterol: 153mg (51%) Sodium: 985mg (43%) Potassium: 1228mg (35%) Fiber: 4g (17%) Sugar: 4g (4%) Vitamin A: 826IU (17%) Vitamin C: 39mg (47%) Calcium: 141mg (14%) Iron: 3mg (17%)