Ready for a nostalgic trip to classic comfort food, that's both satisfying and flavor-packed? My cherished Chicken Salad recipe, a long-standing favorite on the blog, transforms simple ingredients into a meal that's irresistibly creamy, crunchy, and oh-so delicious!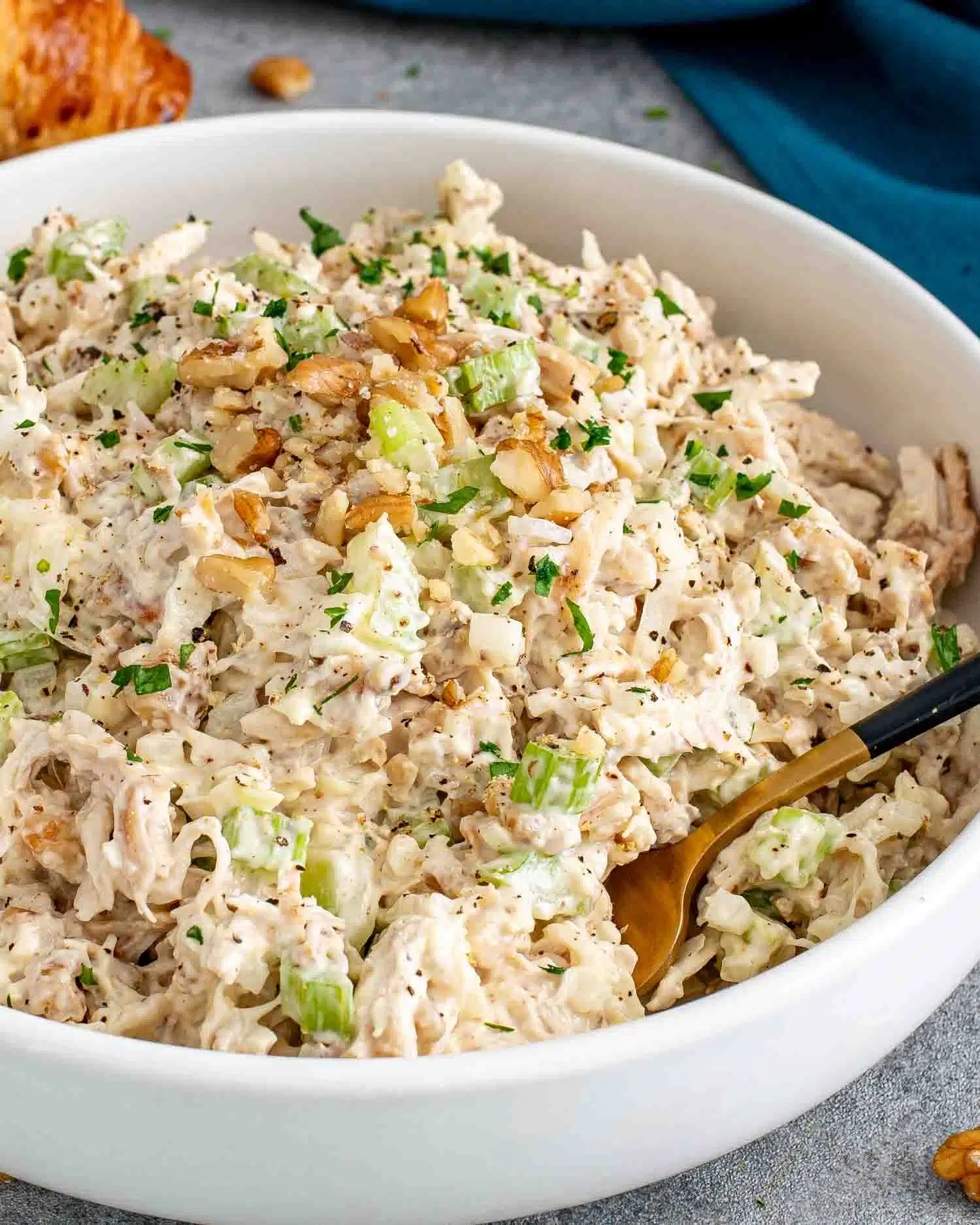 The Best Chicken Salad Recipe
Friends, let me introduce you to my ultimate chicken salad recipe – it's a game-changer! Packed with tender, juicy shredded chicken, crunchy celery, and the perfect hint of onion, each bite delivers a symphony of flavors that will have you coming back for more.
Now, let's talk texture, because this salad brings a delightful contrast. The creaminess of the mayonnaise harmoniously blends with the crunch of the celery and the earthy walnuts (or pecans, if you prefer). It's a recipe that marries simplicity with pure indulgence, in a dish that's just as perfect for a picnic as it is for a classy luncheon. A must-try that's guaranteed to make your taste buds dance!
Pro Tip
For the juiciest, most flavorful chicken salad, use leftover roast or rotisserie chicken. It brings a depth of flavor that simply boiled chicken can't compete with.
Cooked Chicken: The protein of our dish, bringing heartiness and depth. Can be substituted with turkey or even tofu for a vegetarian twist.
Celery Sticks: They offer a wonderful crunch and subtle flavor. No real substitute here, but if you absolutely must, cucumber might work.
Small Onion: This gives an aromatic background note. If you don't have fresh onions, dried onion flakes or powder can work in a pinch.
Mayonnaise: The binder for our salad, creating creaminess. Greek yogurt or avocado are healthier options if you're not a fan of mayo.
Lemon Juice: A bright note to cut through the richness. White wine vinegar could work as a substitute.
Walnuts or Pecans: Providing a different kind of crunch and a touch of earthy flavor. Almonds or sunflower seeds could work too.
Salt and Pepper: Essential for seasoning. Adjust to your personal taste.
Parsley: For garnish and a pop of color. Feel free to switch it up with dill or chives.
How To Make Chicken Salad
Can you believe how easy it is to whip up this classic Chicken Salad? It's all about gathering your ingredients and tossing them together. Let's get to it!
Creating the Salad Mixture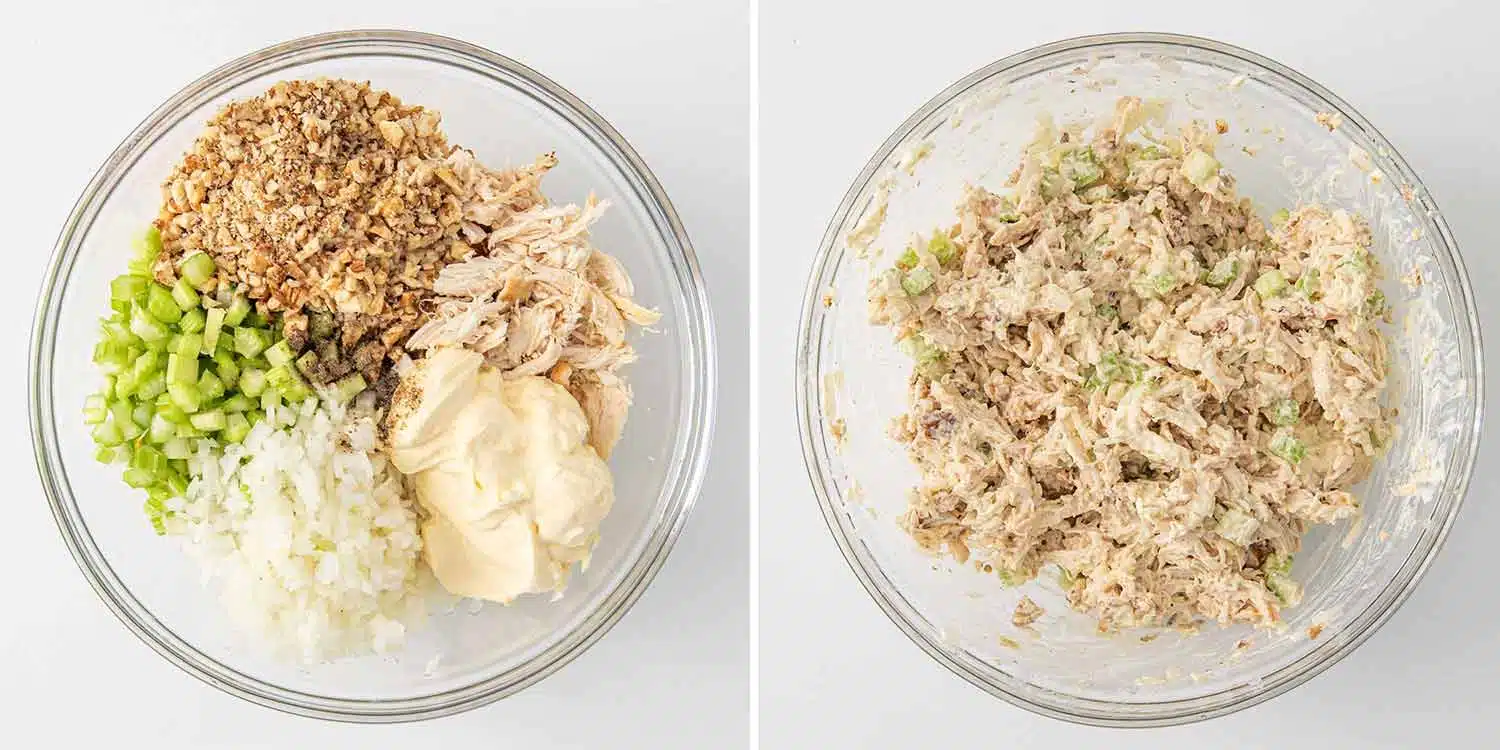 Grab a large bowl and let's start the magic. Toss in the shredded chicken, chopped celery, onion, and your choice of walnuts or pecans. Next, add a generous dollop of mayo and a good squeeze of fresh lemon juice. Season with salt and pepper, and give it a good mix. You'll see it transform into a creamy, hearty salad right before your eyes.
Chilling Time
Once mixed, cover the bowl with plastic wrap and let it chill in the fridge. This one-hour break allows the flavors to blend perfectly, making our chicken salad even more delicious.
Ready To Serve
Time's up! Uncover your salad, give it one last stir, and garnish with some chopped parsley. It's more than just a pretty green touch – it gives a nice fresh kick to our salad. Now it's ready to serve and enjoy, whether in a sandwich, atop a green salad, or straight from the bowl.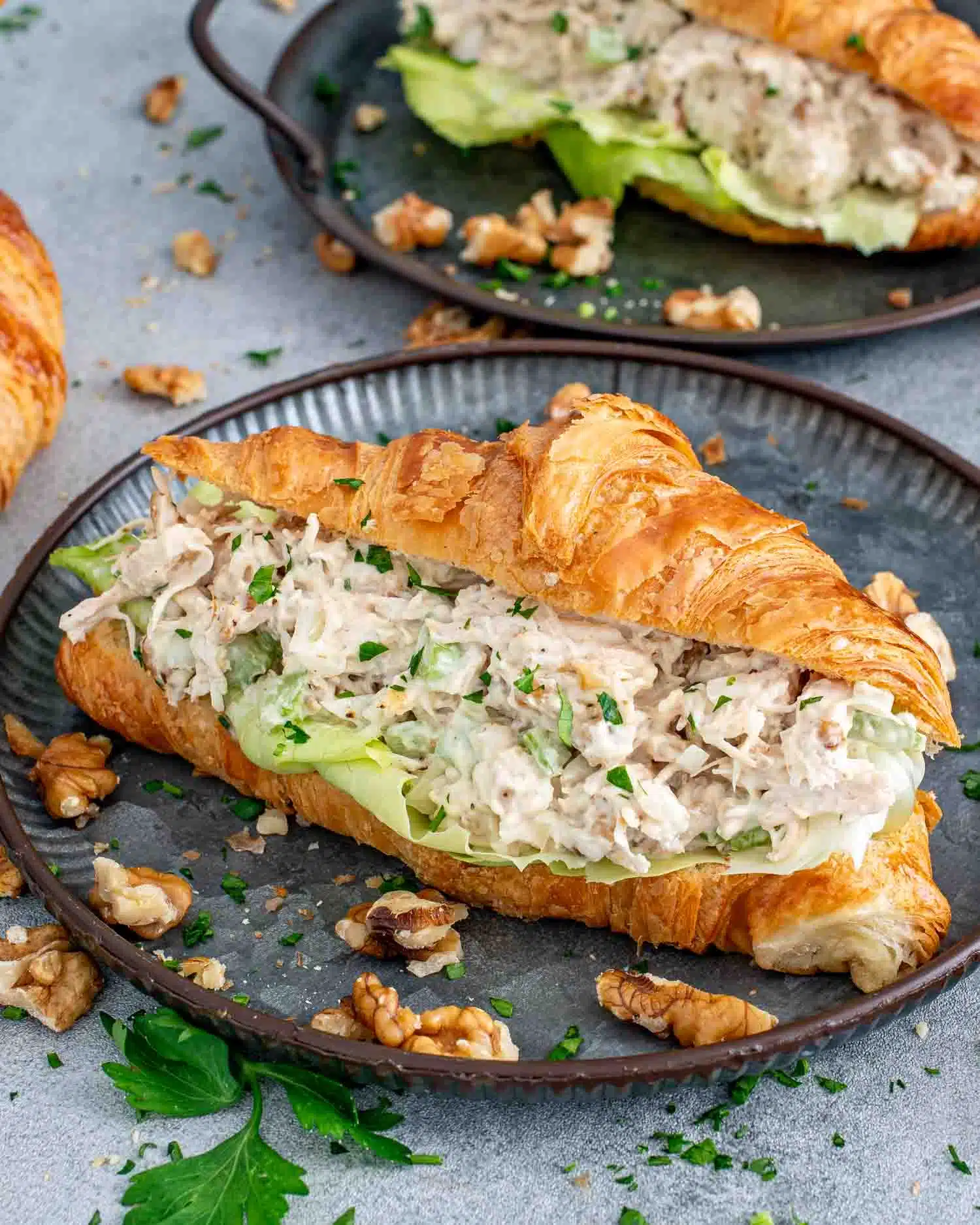 Frequently Asked Questions
Can I make this chicken salad in advance?
Absolutely! In fact, making it a day ahead gives the flavors more time to blend together. Just keep it refrigerated in an airtight container and it'll be delicious when you're ready to serve.
Can I use any type of cooked chicken for this recipe?
Yes, you can. Shredded rotisserie chicken, leftover grilled chicken, or even canned chicken works well for this recipe. Just make sure the chicken is properly drained and cooled before adding to the salad.
Can I add other ingredients to this salad?
Definitely! This is a flexible recipe and you can add other ingredients like grapes, dried cranberries, or even chopped apples for a sweet touch. Feel free to customize it to your liking.
I'm not a fan of mayonnaise. Can I use a substitute?
Yes, if you're not a mayo fan, you can substitute with Greek yogurt or sour cream for a tangy twist, or use a lighter option like avocado for creaminess.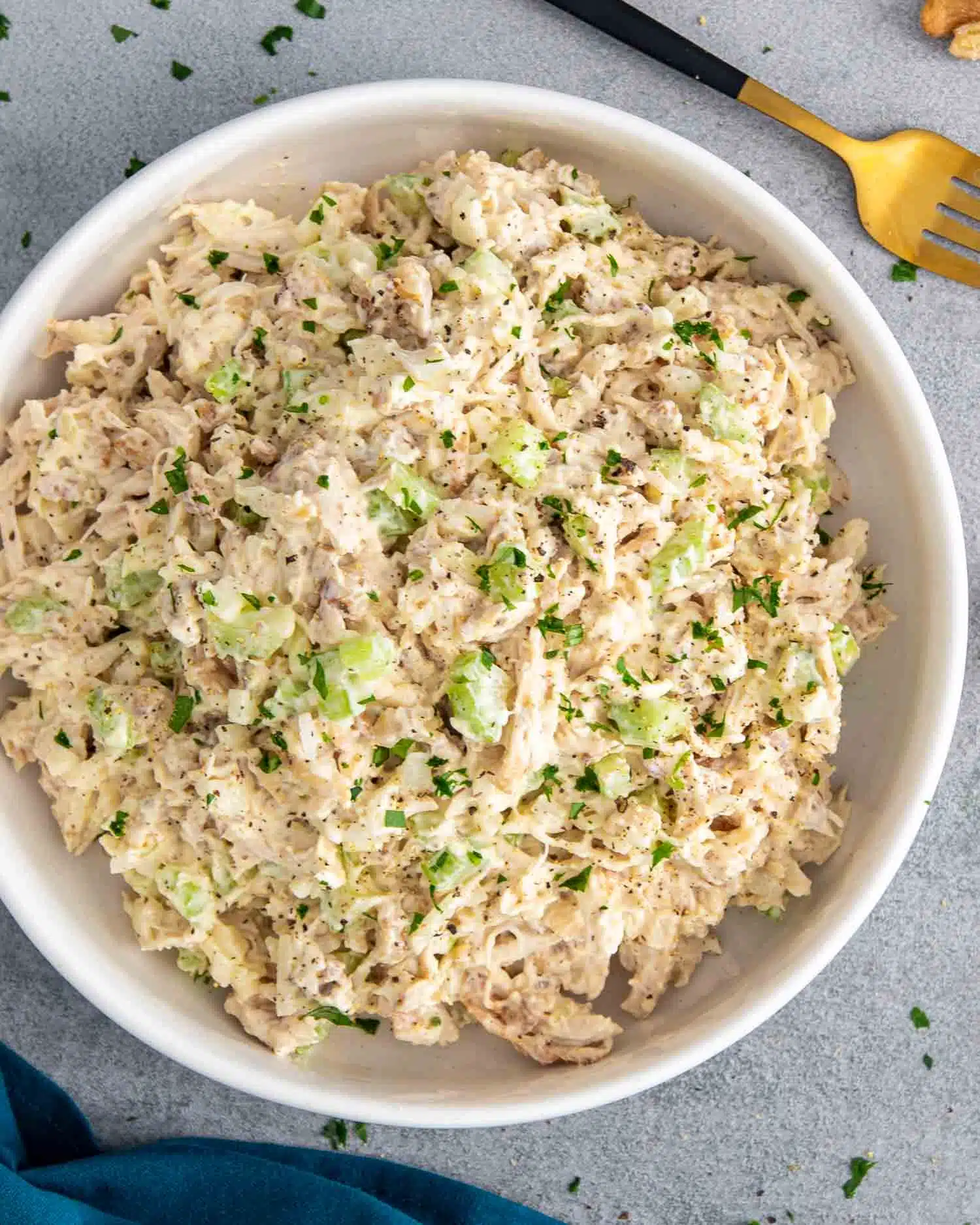 Expert Tips
Use Quality Mayonnaise: The mayonnaise is a key player in this recipe, so use a good-quality one. It really makes a difference in taste and texture.
Toast Your Nuts: If you have a few extra minutes, lightly toast the walnuts or pecans. This enhances their flavor and adds a bit of extra crunch to the salad.
Let It Chill: Let the salad chill in the fridge for at least an hour before serving. This allows the flavors to meld together for a more robust taste.
Use Fresh Lemon Juice: Use fresh lemon juice if possible. It has a brighter, more vibrant taste than bottled juice and can make a big difference in your salad.
Adjust To Taste: Remember, the quantities listed for the ingredients are just a guide. Feel free to adjust the levels of salt, pepper, and lemon juice to suit your own personal tastes.
Storage
Leftover chicken salad can be stored in an airtight container in the refrigerator for 3-5 days. When it comes to freezing, while it's technically possible, I wouldn't recommend it. The mayonnaise in the salad can separate when frozen and thawed, leading to a less appealing texture and taste. If you need to make it in advance, it's best to store it in the refrigerator.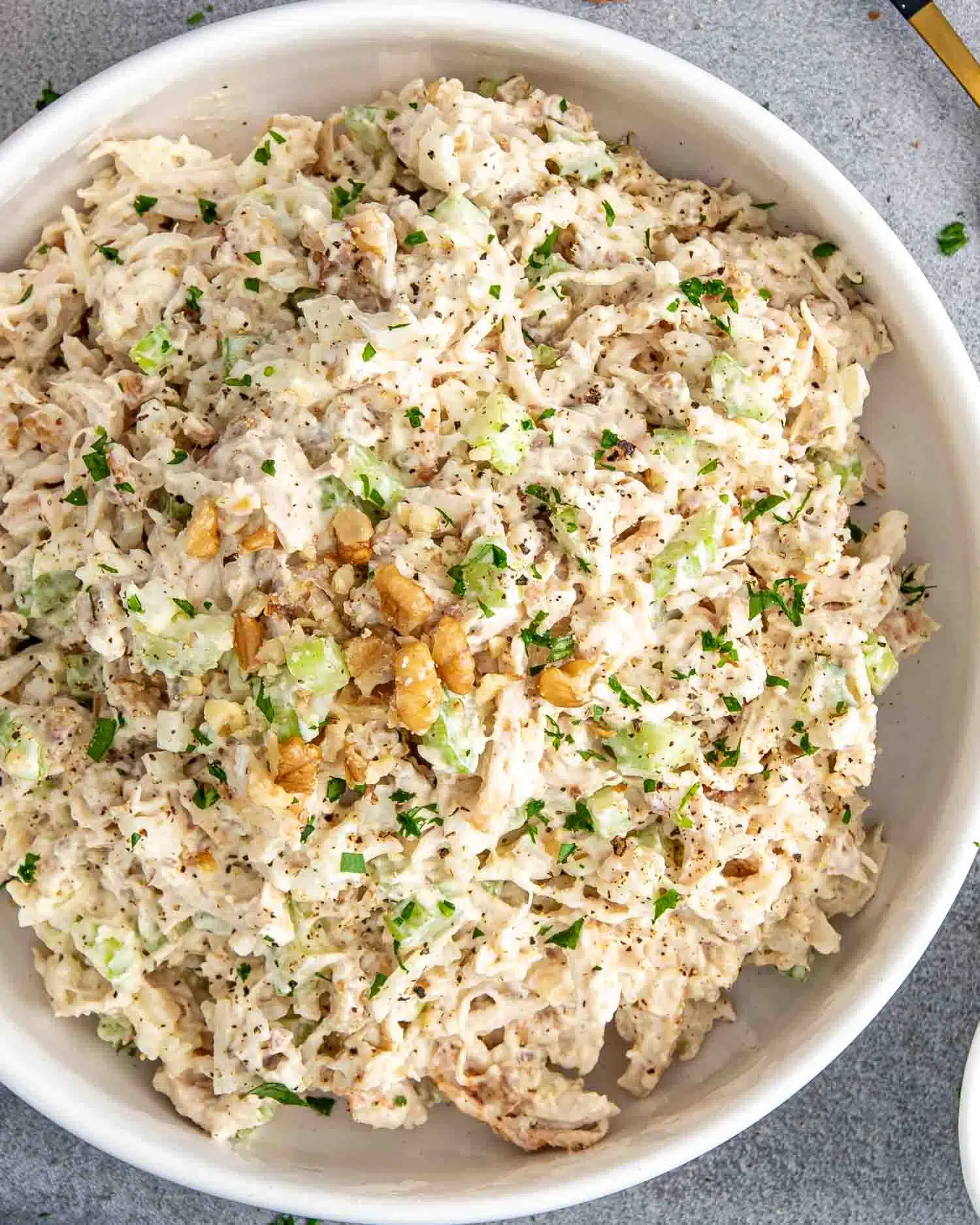 Other Delicious Recipes To Explore
Craving More? Follow Along:
Easy Chicken Salad
This Chicken Salad isn't your average dish, it's packed with the delightful crunch of celery, walnuts, and the succulent texture of shredded chicken, all beautifully bound with a zesty lemon-mayo dressing. It's a flavorful journey in every bite – a crowd pleaser that's perfect for any occasion.
Prep: 10 minutes
Cook: 0 minutes
Total : 10 minutes
serves: 6
Ingredients
3 cups cooked chicken shredded
2 sticks celery chopped
1 small onion chopped
1 cup mayonnaise
2 tablespoon lemon juice
1 cup walnuts or pecans chopped
½ teaspoon salt or to taste
½ teaspoon pepper or to taste
2 tablespoon parsley chopped, for garnish
Instructions
In a large bowl, add all the ingredients together and toss well. Cover with plastic wrap and refrigerate for at least an hour.

Garnish with parsley, if preferred and serve.
Tips & Notes:
Ingredient Variations: This recipe is highly adaptable! Try adding diced apple or grapes for a fruity twist, or a touch of curry powder for a flavor kick.
Serving Suggestions: This salad can be served in many ways – on toasted bread for a sandwich, atop a bed of greens for a light lunch, or stuffed in a tomato or avocado for a unique appetizer.
Storing: Leftovers store well in the fridge for up to 3-5 days. 
Best Chicken for Salad: The best chicken for this salad is poached or roasted chicken breast. However, feel free to use store-bought rotisserie chicken for a quicker option.
nutrition facts
Serving: 1serving Calories: 507kcal (25%) Carbohydrates: 5g (2%) Protein: 21g (42%) Fat: 45g (69%) Saturated Fat: 7g (44%) Polyunsaturated Fat: 27g Monounsaturated Fat: 10g Trans Fat: 0.1g Cholesterol: 68mg (23%) Sodium: 496mg (22%) Potassium: 320mg (9%) Fiber: 2g (8%) Sugar: 2g (2%) Vitamin A: 230IU (5%) Vitamin C: 5mg (6%) Calcium: 42mg (4%) Iron: 2mg (11%)