This Easy Grilled Cheese is the ultimate classic comfort food! With toasted, buttery crisp bread on the outside and layers of ooey-gooey cheese on the inside, it's warm, melty, and downright irresistibly good. Perfect for any time of day, you can whip up this iconic sandwich in just minutes with a few simple ingredients and a skillet!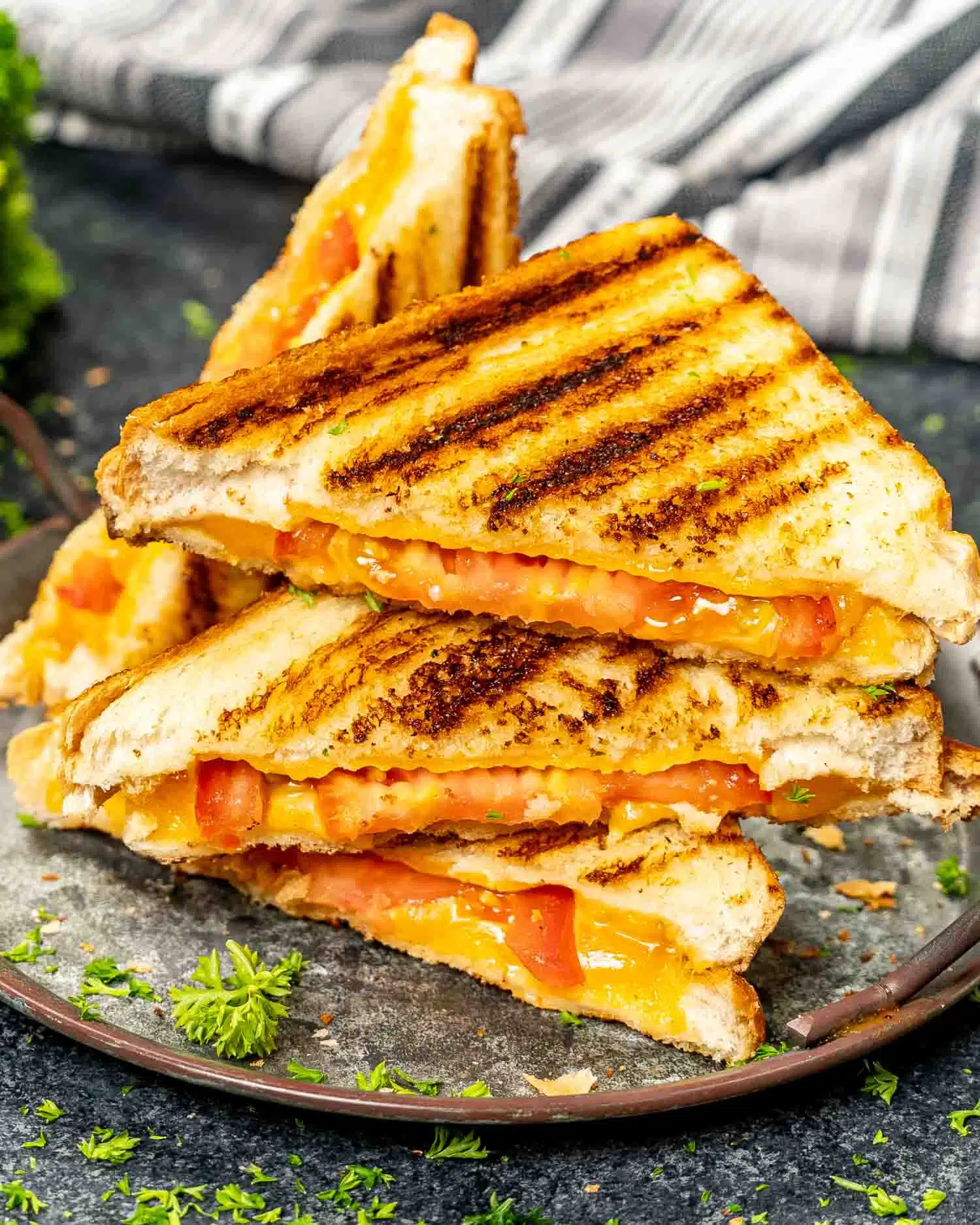 Best Grilled Cheese Recipe
Grilled cheese! Those two words alone are enough to make most mouths water and hearts flutter. At its core, grilled cheese is a classic sandwich that transforms simple bread and cheese into a warm and melty masterpiece. With perfectly toasted bread, generously slathered with butter, and gooey layers of melty cheese, it's a delicious combination that has become an iconic symbol of comfort and cherished childhood memories.
But grilled cheese is more than just a sandwich; it's a versatile culinary canvas! While this recipe calls for bread, butter, cheese, and tomato, the possibilities are truly endless. Different types of bread and cheese are just the beginning. You can add caramelized onions, crispy bacon, spinach, ham, or anything your taste buds desire. This means that you can keep this grilled cheese recipe simple or dress it up with sophisticated flavors and serve it with a cocktail like an Old Fashioned or Old Cuban for a fun grown-up twist.
Why You'll Love This Grilled Cheese
Quick and Easy! Whether you're a beginner in the kitchen or a seasoned pro, this classic recipe guarantees deliciousness without any hassle. Made with minimal ingredients in just minutes, grilled cheese is the perfect lunch for busy days.
Comforting Cheesy Classic! There's something undeniably delicious about the combination of perfectly melted cheese and buttery toasted bread. A grilled cheese sandwich is like a comforting culinary hug that wraps you in pure cheesy goodness.
Family Favorite! When it comes to pleasing little palates, few things rival the charm of a perfect grilled cheese sandwich. Its simplicity and deliciousness make it an instant hit. Whether it's for a quick lunch or an easy dinner this classic appeals to the whole family.
Bread – You can use any type of sliced bread. Some good options include white, wheat, or sourdough bread. The bread serves as the foundation for the sandwich and provides the crispy exterior.
Cheese – The best cheese to use is one that melts easily like sharp cheddar, Swiss, Gouda, or American cheese. You can use just one or a combination of them to create the gooey middle of the grilled sandwich.
Unsalted Butter – Needed to grill the sandwich and make the bread crispy. Use unsalted butter to control the amount of added salt. Mayonnaise can also be used if you prefer.
Tomatoes – Thinly sliced tomatoes are an optional ingredient that can be added to provide a layer of freshness and juicy tomato flavor.
How To Make Grilled Cheese
This recipe is easy and perfect for teaching kids how to cook! With just 3 basic ingredients and a skillet this grilled sandwich takes less than 10 minutes to make. It's a yummy sandwich that is perfect for a quick meal!
Preheat The Skillet
Before you even begin, you need to have all your ingredients out and ready to go. This recipe is super simple but goes fast. Then preheat a non-stick skillet or griddle over medium-low heat.
Butter The Bread
Next, place your bread slices in a single layer on a cutting board or flat surface. Then spread a thin layer of the softened butter just on one side of each piece of bread. Now, put two of the slices, buttered side down, on the hot preheated skillet.
Add The Cheese
Once you've put the bread in the skillet, immediately place one slice of cheese on each slice of bread. Then arrange a few slices of tomatoes on top of the cheese. Now, put another slice of cheese on each sandwich and then place the remaining two slices of bread on top with the butter-side facing up.
Grill The Sandwiches
Now, cook the sandwiches for about 3 to 4 minutes on medium-low heat or until the bottom slice of bread gets crispy and becomes golden brown. Then use a spatula to carefully flip both of the sandwiches over and cook them for another 3 to 4 minutes. When your sandwiches are done grilling the cheese should be melted and both sides should be crispy and golden brown.
Slice And Enjoy
After your sandwiches are grilled, remove them from the skillet and let them sit for 1 to 2 minutes to set. Now, cut them in half and serve with a bowl of tomato soup or beef lentil soup if you like!
Frequently Asked Questions
What kind of cheese is best for grilled cheese?
You want a cheese that melts well such as cheddar, Swiss, Gouda, American cheese, or even brie. These cheeses have a high-fat content, which allows them to melt easily. On the other hand, hard cheeses like Parmesan or aged cheeses are not ideal as they don't melt as easily. 
Is mayo or butter better for grilled cheese?
Both can be used to achieve a crispy sandwich. But I prefer butter because it provides a rich and classic taste.
What can you put in grilled cheese?
Basically, anything you like! Crispy bacon or ham can provide a savory element, while mushrooms keep it vegetarian. For a touch of sweetness, try adding slices of apple or fig jam. The beauty of this sandwich lies in its versatility.
Expert Tips
Use room temperature butter. Soft butter is much easier to spread on the bread and ensures even browning. 
Control the heat. Cooking the grilled cheese over medium-low heat allows the cheese to melt slowly and evenly while giving the bread a chance to become golden brown without burning.
Don't overcrowd the pan. When making multiple sandwiches, grill them in batches. You need to leave enough space for proper heat distribution to get that perfect golden crust.
Let it rest before cutting. Give the sandwich a minute or two to rest before cutting it. This allows the cheese to set slightly and prevents the filling from oozing out.
Storage
If you have any leftover sandwiches, wrap each one in plastic wrap or place them in an airtight container and store them in the refrigerator for up to 3 days. When you're ready to enjoy them again, simply reheat the sandwich by placing it in a preheated skillet over medium heat or popping it in a toaster oven.
Discover Other Sandwich Recipes
Craving More? Follow Along:
Easy Grilled Cheese
Grilled to golden perfection, my Grilled Cheese sandwich oozes with sharp cheddar, while an optional slice of tomato adds a tangy twist. Experience a homey classic that's equal parts comforting and satisfyingly indulgent. This is simplicity at its tastiest!
Prep: 2 minutes
Cook: 8 minutes
Total : 10 minutes
serves: 2
Ingredients
4 slices bread white, wheat or sourdough
4 slices cheese such as cheddar, Swiss, Gouda or combination
2 tablespoons unsalted butter softened
4 slices tomatoes thin, optional
Instructions
Preheat a non-stick skillet or griddle over medium-low heat.

Lay out the slices of bread on a cutting board or flat surface. Spread a thin layer of softened butter on one side of each slice of bread.

Place two slices of bread, buttered side down, in the preheated skillet or griddle.

Place one slice of cheese on each slice of bread in the skillet. Arrange 2-3 thin tomato slices on top of the cheese on each sandwich.

Top each sandwich with another slice of cheese, then place the remaining slices of bread on top, with the buttered side facing up.

Cook the sandwiches on medium-low heat for about 3-4 minutes, or until the bottom slice of bread is golden brown and crispy. Carefully flip the sandwiches over with a spatula and continue cooking for another 3-4 minutes, or until the other side is golden brown and the cheese has melted.

Remove the sandwiches from the skillet or griddle and let them rest for a minute or two before cutting them in half. Serve the grilled cheese sandwiches hot and enjoy!
Tips & Notes:
Bread Choice: Feel free to experiment with sourdough, whole wheat, or rye for a unique twist. Just ensure it's sturdy enough to hold up to grilling.
Cheese Matters: Sharp cheddar is recommended for its strong flavor and good melting characteristics. However, you can substitute it with your preferred cheese. Combinations like mozzarella with cheddar can also be delightful.
Tomato Slice: The slice of tomato is optional but it can provide a nice balance to the rich, melty cheese. If you're not a fan of tomatoes, you can try adding thin slices of apple or pear for a sweet, crunchy contrast.
Butter: Make sure your butter is soft enough to spread easily. This will ensure a uniform, golden crust on your grilled cheese.
Cooking: Grilled cheese is best served immediately while the cheese is still melty and gooey. If you're making multiple sandwiches, keep them warm in a low-temperature oven while preparing the rest.
nutrition facts
Serving: 1sandwich Calories: 492kcal (25%) Carbohydrates: 30g (10%) Protein: 20g (40%) Fat: 33g (51%) Saturated Fat: 18g (113%) Polyunsaturated Fat: 2g Monounsaturated Fat: 7g Trans Fat: 0.5g Cholesterol: 86mg (29%) Sodium: 635mg (28%) Potassium: 253mg (7%) Fiber: 3g (13%) Sugar: 5g (6%) Vitamin A: 1362IU (27%) Vitamin C: 8mg (10%) Calcium: 475mg (48%) Iron: 2mg (11%)