These vibrant and refreshing Rainbow Fruit Skewers with Yogurt Dip are the ultimate fun and healthy addition to your summer spread! Featuring a delightful medley of juicy, sweet, colorful fresh fruit, these fruit kebabs are perfect for kids' birthday parties, summer gatherings, or a quick and guilt-free healthy snack!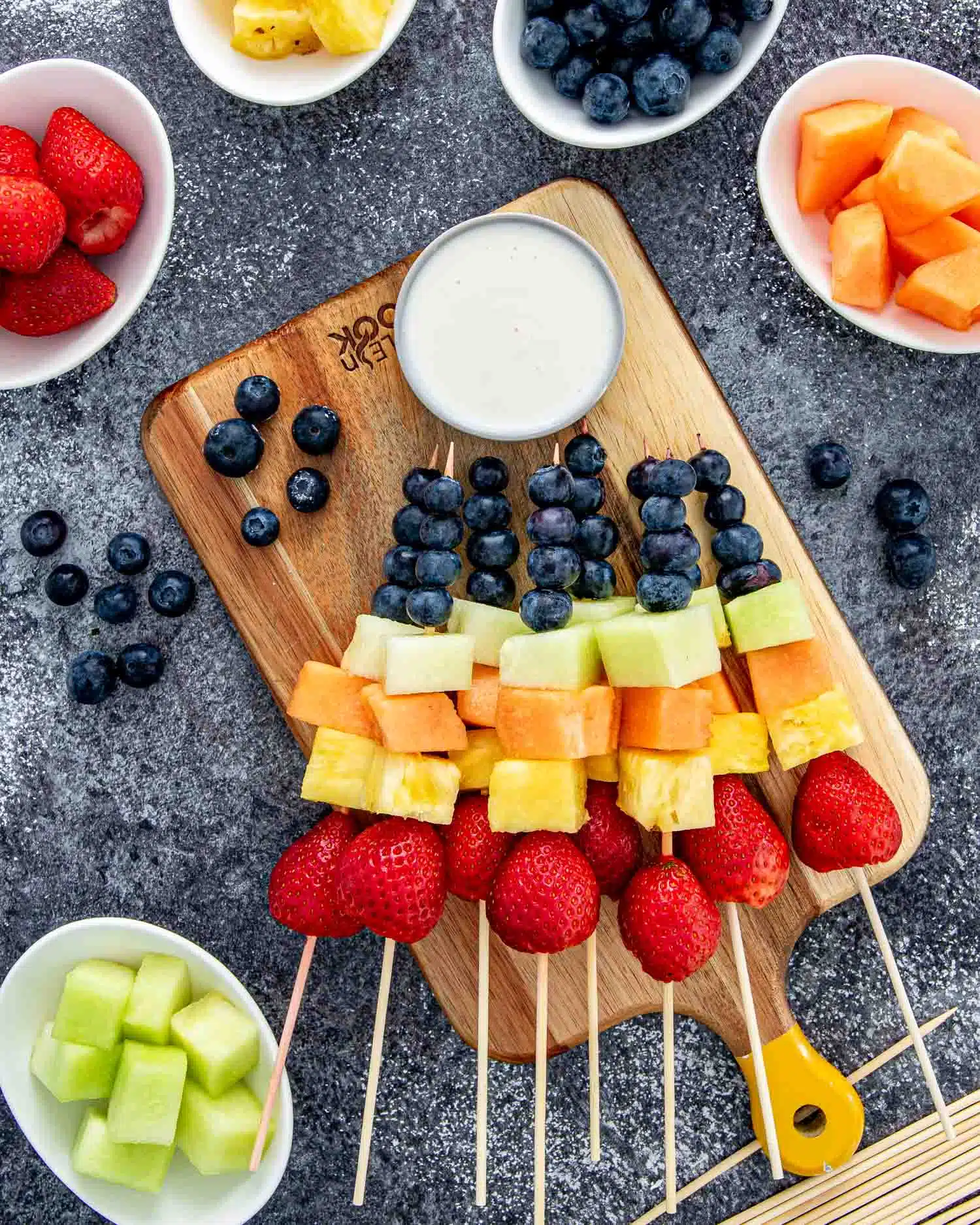 Easy Rainbow Fruit Skewers Recipe
Fun and flavorful, rainbow fruit skewers are like edible rainbows on a stick! With juicy strawberries, tangy pineapple, sweet melon, and plump blueberries, threaded in perfect rainbow order and paired with a creamy yogurt dip, these fruity treats are a feast for your eyes and taste buds. Offering a delightful mix of tastes and textures, they elevate simple fruit to a whole new level.
And apart from being visually appealing and delicious, these rainbow fruit skewers with yogurt dip are a healthy option that you can indulge in guilt-free. Each fruit offers a range of essential vitamins, antioxidants, and fiber, contributing to your overall well-being. So, whether you're hosting a party or just looking for a wholesome snack, these fruit skewers are the perfect choice for you and your loved ones.
Why You'll Love These Rainbow Fruit Skewers
Quick and Easy! With just a handful of fresh fruits and a few minutes of your time, you can whip up a colorful fruit platter. And it's a fun activity to involve the kids, making them feel like little kitchen artists as they thread the colorful fruits in rainbow order. 
Healthy and Refreshing! These rainbow fruit skewers are a guilt-free indulgence that is a fantastic alternative to sugary desserts. The natural sweetness of the selection of fruits paired with the creamy yogurt dip satisfies your sweet tooth while keeping things healthy!
Versatile Dish! The vibrant appearance and refreshing taste of rainbow fruit kebabs make them suitable for any occasion. Whether it's a casual gathering or a formal event, these crowd-pleasers add a burst of color and flavor to any table.
Strawberries – These juicy berries bring the red to the rainbow along with a bit of sweetness as well as a hint of tartness. Other red options include raspberries, watermelon, and cherries.
Pineapple – Adds a tangy twist and a vibrant yellow color.
Cantaloupe – Brings a refreshing note to the skewers and vibrant orange color. You could also use orange slices, peaches, or mango for the orange color.
Honeydew Melon – Adds light green and another refreshing layer. Kiwi and green grapes are other good choices.
Blueberries – These little bursts of blue add a touch of tartness. Blackberries or purple grapes can be substituted if you can't find fresh blueberries.
Plain Greek Yogurt – Serves as a great base for fruit dips. Regular plain yogurt can also be used or coconut yogurt for a plant-based version, but both will result in a thinner consistency.
Honey – Enhances the yogurt dip's flavor without overwhelming the natural sweetness of the fruits. You can also use agave or maple syrup if you like.
Vanilla Extract – A splash of vanilla elevates the yogurt dip with a hint of aromatic flavor. You can omit the extract if you used vanilla yogurt.
How To Make Rainbow Fruit Skewers
Just like making a fresh fruit salad, these colorful fruit kebabs are simple to make! With no cooking involved, once you've got all your fruit prepped, this recipe takes just minutes!
Thread The Rainbow
This recipe is fun from start to finish! First, you need to make the fruit kabobs by skewering the fruits onto wooden sticks in rainbow order. Begin with the strawberries, followed by the pineapple, then cantaloupe, honeydew melon, and finally ending with blueberries.
Make The Yogurt Dip
After you've threaded the fruit, whip together the creamy dip by whisking the plain Greek yogurt, honey, and vanilla together in a small bowl. You can adjust the level of sweetness to your liking by adding more or less honey.
Serve And Enjoy
To serve, arrange the rainbow fruit skewers on your favorite platter, add the yogurt dip, and then enjoy the delicious medley of flavors and colors!
Frequently Asked Questions
Can I use other fruits?
Absolutely! Feel free to get creative and use any fruits you like! Just keep in mind that cut fruits like apples, pears, and bananas will turn brown over time. 
Can I make fruit skewers the day before?
It's best to assemble the fruit skewers on the same day you plan to serve them. However, you can pre-cut the fruits the day before.
Can I make the yogurt dip ahead of time?
Yes! The yogurt dip can be prepared up to 2 days in advance and stored in the refrigerator in an airtight container. Just give it a quick stir before serving.
How long will fruit skewers stay fresh?
It's recommended to eat the fruit skewers on the same day that they are made. Fresh fruits have a limited shelf life once they are cut and start to lose their freshness. However, you can store leftovers in the refrigerator for a few days. 
Expert Tips
Use fresh ripe fruit. Choose the juiciest strawberries, the sweetest pineapple, and the most vibrant-colored melons you can find for the best results.
Use cookie cutters. Use star-shaped or heart-shaped cookie or fruit cutters to create fun shapes. It's a fantastic way to make the skewers even more appealing, especially to kids.
Add a bit of chocolate. Serve the fruit skewers with melted chocolate or chocolate mousse in place of or in addition to the Greek yogurt dip for a decadent touch of chocolatey goodness. 
Spice it up. For a surprising twist, sprinkle a pinch of tajin or chili powder on the fruit skewers for a subtle kick of spice.
Storage
Rainbow fruit skewers are best enjoyed fresh, but you can store any leftovers in an airtight container in the refrigerator for up to 3 days. However, if you don't think you'll consume the fruit within a few days, it's also possible to freeze it and use it later to make a breakfast smoothie.
Other Delicious Desserts To Try
Craving More? Follow Along:
Rainbow Fruit Skewers with Yogurt Dip
These vibrant and refreshing Rainbow Fruit Skewers with Yogurt Dip are the ultimate fun and healthy addition to your summer spread! Featuring a delightful medley of juicy, sweet, colorful fresh fruit, these fruit kebabs are perfect for kids' birthday parties, summer gatherings, or a quick and guilt-free healthy snack!
Prep: 15 minutes
Cook: 0 minutes
Total : 15 minutes
serves: 8
Ingredients
2 cups strawberries washed and hulled
2 cups pineapple cubed
2 cups cantaloupe cubed
2 cups honeydew melon cubed
2 cups blueberries washed
1 cup plain Greek yogurt
¼ cup honey
1 teaspoon vanilla extract
Instructions
Thread the fruit onto the skewers in rainbow order, starting with the strawberries, then pineapple, cantaloupe, honeydew, and ending with the blueberries.

In a small mixing bowl, whisk together the Greek yogurt, honey, and vanilla extract to make the yogurt dip.

Serve the fruit skewers alongside the yogurt dip.
Tips & Notes:
Fruit Selection: This recipe is incredibly versatile. Feel free to use any variety of fruits that you enjoy or that are in season.
Preparing Ahead: You can cut the fruit and prepare the yogurt dip in advance. Just remember to add a little lemon juice to fruits like apples and bananas to prevent them from browning.
Serving: For the best flavor and texture, assemble the skewers and serve them immediately after preparation.
Yogurt Dip: Feel free to customize the yogurt dip to your liking. You could add a bit of honey for sweetness, or some lemon zest for a tangy twist.
Storage: Leftover fruit skewers can be stored in an airtight container in the fridge. The yogurt dip should be consumed within 2-3 days for the best taste and quality.
nutrition facts
Serving: 1serving Calories: 137kcal (7%) Carbohydrates: 31g (10%) Protein: 4g (8%) Fat: 1g (2%) Saturated Fat: 0.4g (3%) Polyunsaturated Fat: 0.2g Monounsaturated Fat: 0.04g Cholesterol: 2mg (1%) Sodium: 33mg (1%) Potassium: 294mg (8%) Fiber: 3g (13%) Sugar: 26g (29%) Vitamin A: 1439IU (29%) Vitamin C: 57mg (69%) Calcium: 53mg (5%) Iron: 1mg (6%)