These creamy Mashed Potatoes are the best fluffiest and smoothest mashed potatoes! Extremely easy to make and ready to enjoy in just 30 minutes!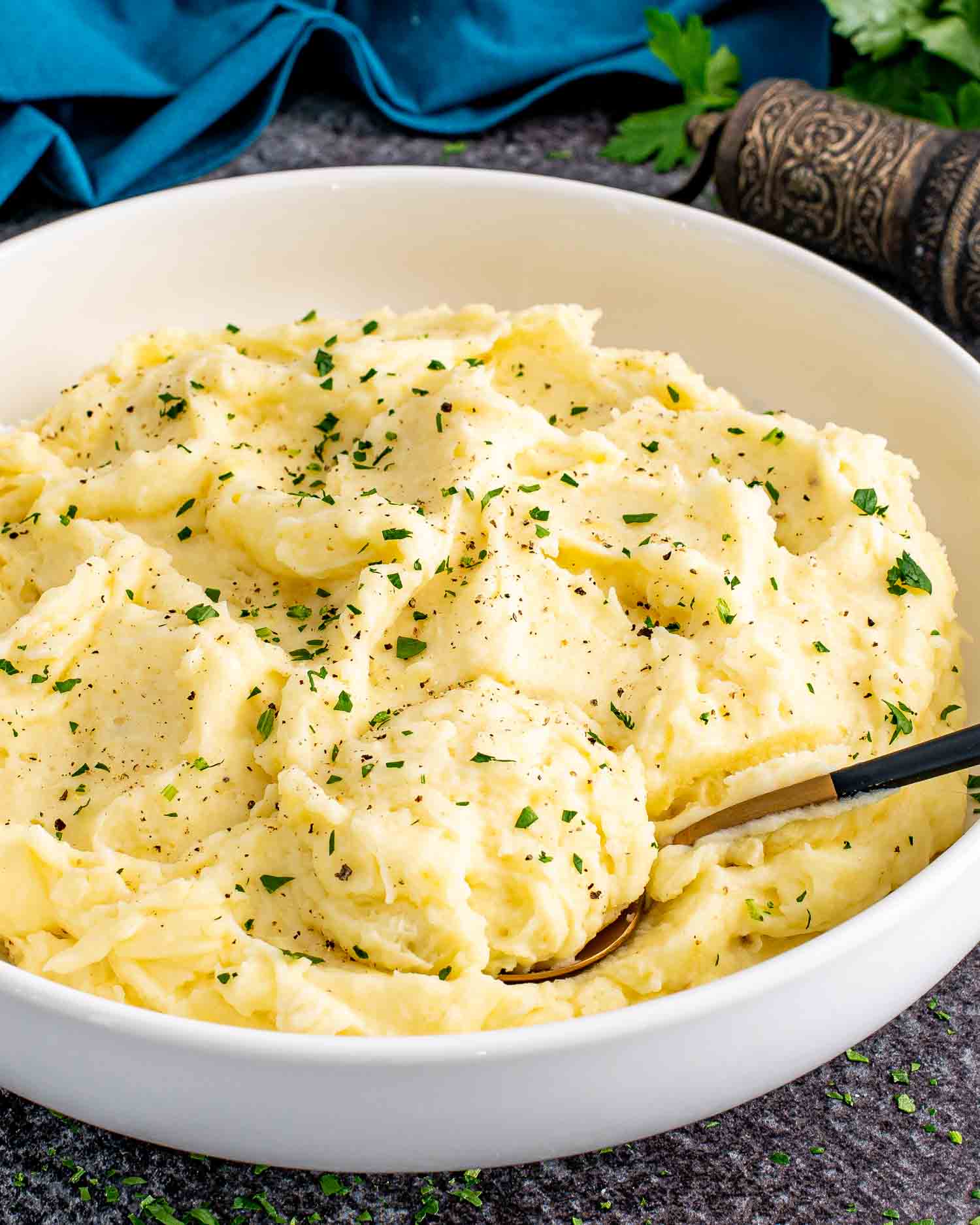 My Mom's Creamy Mashed Potatoes
Welcome to a culinary journey that's close to my heart – my mom's homemade mashed potatoes. This recipe, which I've been making for decades, is an embodiment of comfort food at its finest. If you've been on the hunt for an "easy mashed potato recipe" that doesn't compromise on creaminess and flavor, you've found it.
Using either Yukon Gold or Russet potatoes along with butter, milk, salt, and pepper, I've transformed my mom's humble recipe into an indulgent dish that's easy for anyone to make. The result? Creamy, fluffy mashed potatoes that I've served on countless occasions, always receiving rave reviews. So, grab your potato peeler and let's honor the tradition of home cooking with a side dish that brings us all a little closer to home.
Why This Mashed Potatoes Recipe Works
Choice of Potatoes: The use of either Yukon Gold or Russet potatoes plays a pivotal role in the final product. Yukon Golds yield a naturally buttery and creamy texture, while Russets, with their high-starch content, result in an incredibly fluffy mash. So, depending on what you're in the mood for – ultra-creamy or light and fluffy – you have the freedom to choose your preferred potato.
Cooking Method: Starting the potatoes in cold water and cooking them uncovered ensures an even, perfect cook. This method prevents the outside of the potatoes from getting mushy before the inside is done, contributing to a smooth and lump-free mash.
Quality of Ingredients: Simple recipes like this one stand out when high-quality ingredients are used. By using good-quality, unsalted butter and fresh milk or cream, the mashed potatoes achieve a rich, full-bodied flavor that's truly irresistible. The butter enhances the natural flavors of the potatoes, while the milk or cream adds a luxurious creamy texture.
Potatoes (Yukon Gold or Russet): Potatoes form the base of this recipe. Yukon Golds create a creamy texture, while Russets result in a fluffier mash. If you don't have either, other starchy potatoes will work in a pinch, though the texture might be slightly different.
Unsalted Butter: This brings a rich and creamy flavor to the potatoes. If you only have salted butter on hand, you can use that, just be sure to adjust the added salt to taste.
Milk or Cream: Milk or cream adds to the creamy texture and rich taste. You can also use a non-dairy milk like almond or soy if you prefer, but keep in mind this will alter the flavor slightly.
Salt: Salt enhances all the other flavors. If you're watching your sodium intake, you can reduce the amount or use a salt substitute.
Black or White Pepper: This adds a subtle heat. If you don't have pepper or prefer not to use it, you can leave it out entirely, but it does add a depth of flavor that complements the potatoes nicely.
How To Make Mashed Potatoes
Trust me when I say this – making creamy, homemade mashed potatoes is as simple as pie. Let's break it down step by step:
Cook Your Potatoes
Cut your peeled potatoes into equal-sized pieces. Why? Well, when you cook them, you want them all to cook evenly and at the same time. Next up, put your potato pieces into a large pot, filling it with cold water until all the potatoes are covered. Drop in about a teaspoon of salt and give it a good stir. You'll want to cook them uncovered for about 15 to 20 minutes.
Your kitchen timer or phone alarm will be your best friend here. You'll know they're done when you can easily slide a fork into the potatoes.
Mashing Time
Before we actually mash the potatoes, let's heat up the milk. You can use the stove or the microwave, but make sure it's warm, not boiling. This is an important trick my mom taught me – warm milk absorbs better into the potatoes and makes them extra creamy!
Drain your cooked potatoes and transfer them into a bowl. Add in the butter and grab your trusty potato masher. Begin mashing away, and as you do, pour in the warmed milk. Mash until you've reached your desired consistency. Some like it super smooth, and others prefer a few lumps here and there. It's all up to you!
Final Seasoning
Last but not least, let's season these potatoes to perfection. Sprinkle in some salt and pepper, adjusting to your liking. Remember, it's always better to start with less, you can always add more! And voila! You've just created a bowl of creamy, heartwarming mashed potatoes.
Frequently Asked Questions
Can I use a different type of potato for this recipe?
Absolutely. While I prefer using Yukon Gold or Russet potatoes for their texture and flavor, other starchy potatoes can be used too. Just remember that the texture might vary depending on the potato type.
How do I make my mashed potatoes creamier?
The secret to creamier mashed potatoes lies in the fat content. For ultra-creamy potatoes, substitute half of the milk with cream. Also, be sure to add the butter and warm milk or cream to the potatoes while they're still hot – this helps the potatoes absorb the liquids for a creamier texture.
Can I make these mashed potatoes ahead of time?
Yes, you can! Make the mashed potatoes as instructed, let them cool, then cover and refrigerate. When you're ready to serve, reheat them gently on the stove. You might need to add a little extra milk or cream to bring back the creamy consistency.
What can I do if my mashed potatoes are too runny?
If your mashed potatoes are too runny, don't panic. You can save them by adding a few instant mashed potato flakes or cooking them on low heat to evaporate some of the excess liquid. Remember, it's always easier to add more liquid to adjust the consistency than to remove it.
Can I freeze mashed potatoes?
You sure can. Place your cooled mashed potatoes in freezer-safe bags or containers, then freeze for up to a year. To serve, thaw them in the fridge overnight then reheat on the stove, adding extra butter or milk if needed to restore creaminess.
Expert Tips
Choosing the Right Potatoes: Remember that the type of potato you choose can impact the texture of your mashed potatoes. Yukon Golds yield a buttery and creamy mash, while Russets create a fluffier texture. For a balance between the two, you could even consider using a mix of both!
Start with Cold Water: Always start cooking your potatoes in cold water. This ensures that the potatoes cook evenly, and you don't end up with raw centers and overcooked exteriors.
Don't Over-mash: Over-mashing can lead to gluey, starchy mashed potatoes. For the fluffiest results, use a potato masher or ricer rather than a food processor or hand mixer.
Season Well: Potatoes crave salt! Be sure to season your cooking water, and taste your potatoes after mashing. They might need an extra pinch or two of salt to really make the flavors pop.
Serve Hot: Mashed potatoes are at their best when served warm, as they lose their creaminess as they cool. If you're making them ahead, reheat them gently on the stove, stirring in a bit of extra milk or butter if needed to restore their creamy texture.
Serving Suggestions
Mashed potatoes are an incredibly versatile side dish, pairing beautifully with a wide range of proteins and vegetables. Here are a few ideas:
Classic Holiday Feast: Mashed potatoes are a must-have for holiday feasts. Serve them alongside a juicy roast turkey or honey-glazed ham. Don't forget to spoon some gravy on top for that classic holiday taste.
Comfort Food Night: For a comforting weekday meal, pair these mashed potatoes with a hearty meatloaf or tender, slow-cooked pot roast. The potatoes are a fantastic way to mop up the flavorful juices and sauces from these dishes.
Grilling Season: In the warmer months, mashed potatoes make a surprisingly good partner to grilled foods. Try them with a perfectly seared steak, barbecued chicken, or even grilled vegetables for a delightful contrast of flavors and textures.
Vegetarian Pairing: For a vegetarian option, serve the mashed potatoes with a rich, vegetable-based gravy and a side of roasted or steamed veggies. You could also pair them with a meatless loaf or stuffed peppers.
Fancy Dinner Party: Elevate your dinner party menu by serving these creamy mashed potatoes with a sophisticated main course like beef wellington, roasted rack of lamb, or a whole roasted fish.
Final Thoughts
And there you have it, my friends – my mom's homemade mashed potato recipe, a dish I've been making and enjoying for decades. Creamy, comforting, and so incredibly delicious, these mashed potatoes promise to be a hit at your next family dinner or holiday gathering.
Remember, this recipe is adaptable. Feel free to experiment with different types of potatoes or mix in additional ingredients like roasted garlic, fresh herbs, or even some grated cheese for a personal touch. That's the beauty of home cooking – you can make it your own!
I can't wait to hear how this recipe turns out for you. Be sure to leave a comment below with your results or any tweaks you made. Your feedback is what makes this cooking community so vibrant and engaging.
Craving More? Follow Along:
Mashed Potatoes
Delve into comfort with my mom's Homemade Mashed Potatoes, a cherished recipe passed down for generations. Simple yet decadent, these creamy, rich, and flavorful potatoes are an ideal side for any occasion. Easy to prepare but bursting with homely warmth, they're sure to elevate your everyday meals to something truly special.
Prep: 10 minutes
Cook: 20 minutes
Total : 30 minutes
serves: 8
Ingredients
4 pounds potatoes Yukon Gold or Russet
6 tablespoon butter unsalted, at room temperature
1 cup milk or cream
1 teaspoon salt
½ teaspoon pepper black or white
Instructions
Peel and cut the potatoes in equal size pieces so that they all cook at the same time. Place the potatoes into a large pot and fill with cold water. Make sure there is enough water to fully cover the potatoes. Add about 1 teaspoon of salt to the water and stir.

Cook uncovered about 15 to 20 minutes or until the potatoes are fork tender.

Heat the milk on the stove top or in the microwave until warm, but not boiling hot.

Drain the potatoes and transfer them to a bowl. Add the butter and begin mashing using a potato masher. Pour in the milk and continue mashing until you reach the desired consistency.

Season with salt and pepper and serve while warm.
Tips & Notes:
Potato Choice: You can use either Yukon Gold or Russet potatoes for this recipe. Yukon Golds yield a creamier mash, while Russets give a fluffier texture.
Starting Cold: Begin with cold water when boiling the potatoes to ensure even cooking.
Warming the Milk: Warm the milk or cream before adding to the potatoes. This helps the potatoes absorb the liquid better, resulting in a creamier mash.
Seasoning: Don't forget to season the potatoes well. Taste them after mashing and add more salt if needed.
Serving: Mashed potatoes are best served warm. If making ahead, reheat gently on the stove, adding a bit more milk or butter to restore creaminess if needed.
nutrition facts
Serving: 1serving Calories: 261kcal (13%) Carbohydrates: 41g (14%) Protein: 6g (12%) Fat: 9g (14%) Saturated Fat: 5g (31%) Polyunsaturated Fat: 0.4g Monounsaturated Fat: 2g Trans Fat: 0.3g Cholesterol: 23mg (8%) Sodium: 384mg (17%) Potassium: 1010mg (29%) Fiber: 5g (21%) Sugar: 3g (3%) Vitamin A: 330IU (7%) Vitamin C: 45mg (55%) Calcium: 71mg (7%) Iron: 2mg (11%)