Get ready to indulge in the perfect blend of comfort and sophistication with this easy Creamy Bacon Chicken recipe! This incredible dish brings together tender chicken breast, a flavorful creamy parmesan sauce, and the smoky allure of bacon!
Easy Creamy Bacon Chicken Recipe
Meet pure comfort on a plate! Creamy bacon chicken is a mouthwatering dish featuring tender chicken breasts bathed in a creamy sauce loaded with crispy bacon. It's an incredible recipe that marries the richness of a parmesan cream sauce and the porky goodness of bacon with juicy chicken to create an unbelievably delicious dish. No matter the occasion, this chicken recipe is perfect for both casual family dinners and special occasions.
Why You'll Love Creamy Bacon Chicken
Quick and Easy! It's a great go-to for an easy and satisfying meal. With simple steps and readily available ingredients, it's a hassle-free dish perfect for both beginners and seasoned cooks. 
Irresistibly Delicious! Together the creamy parmesan sauce, smoky bacon, and perfectly seared chicken create a mouthwatering dish layered with rich and savory flavors.
Versatile Dish! You can serve creamy bacon chicken alongside a fresh green salad, over rice, or with crusty bread for any occasion, from family dinners to special events.
Chicken: You'll need some boneless skinless chicken breasts. You can also make this dish with chicken thighs if you prefer.
Salt and Black Pepper: They enhance the overall flavor of the dish.
Garlic Powder: Used to give the chicken breast a subtle taste of garlic.
Onion Powder: Gives the chicken a mild onion flavor.
Olive Oil: Used for searing the chicken, olive oil can be substituted with vegetable oil if you prefer.
Bacon: Provides a delicious savory element and a delightful crunch.
Garlic: Fresh minced garlic cloves infuse the sauce with a robust and aromatic flavor.
Heavy Cream: Forms the creamy base of the sauce and adds richness.
Parmesan Cheese: Gives the sauce a delicious flavor and enhances the creamy texture.
Italian Seasoning: It's typically a blend of dried basil, oregano, rosemary, and thyme. If you don't have any on hand you can make your own using my recipe here.
Paprika: Provides the sauce with a hint of sweetness and depth.
Parsley: Used as a garnish, fresh parsley adds a touch of freshness and a pop of color.
How To Make Creamy Bacon Chicken
This recipe is both effortless and delicious! Once you cook the chicken and bacon, the sauce comes together in under 5 minutes, making this dish the perfect quick and easy meal!
Season The Chicken
Start by seasoning both sides of the chicken breasts with salt, pepper, garlic powder, and onion powder. This not only gives the chicken more flavor but also lays the foundation for the overall taste of the dish.
Cook The Chicken
Next, heat the olive oil over medium-high heat in a large skillet. Now, add the chicken and cook it for about 4 to 5 minutes on each side until it's golden brown and fully cooked. Then remove the chicken from the pan and set it aside for now.
Cook The Bacon
After you've removed the chicken, add the chopped bacon to the same skillet and cook it until it's nice and crispy. Then remove it with a slotted spatula and leave the bacon fat in the pan.
Make The Sauce
Time to make the creamy sauce! First, lower the heat to medium and add the minced garlic to the pan. Then saute it for just 1 minute until it becomes fragrant. Then add the heavy cream, grated parmesan, Italian seasoning, and paprika. Now, stir everything together and let the sauce simmer for about 2 to 3 minutes until it thickens up a bit.
Finish And Serve
Once the sauce is ready, put the cooked bacon and chicken back in the skillet. Next, let the dish simmer for another 2 to 3 minutes while spooning the sauce over the chicken. Then garnish your creamy bacon chicken with a sprinkle of fresh parsley and serve it with some homemade gnocchi and broccoli if you like!
Frequently Asked Questions
What can I add to the dish?
Feel free to be as creative as you like! Some of my favorite additions are sautéed mushrooms, sundried tomatoes, and baby spinach.
Can I use milk or half and half?
Yes! But the sauce will be lighter and less creamy. So you may want to consider adding a bit of flour as a thickening agent to achieve a similar consistency.

Can I make this dish in advance?
Absolutely! You can store it in the refrigerator for up to 3 days and reheat it when you're ready.
Expert Tips
Pat the chicken dry. Before seasoning and searing the chicken, make sure to pat it dry with paper towels. Removing excess moisture creates a better sear and prevents the chicken from steaming.
Properly sear the chicken. Make sure your skillet is hot before adding the chicken. This creates a more flavorful dish by ensuring a nice, golden crust. 
Use quality bacon. This key ingredient is responsible for seasoning the entire dish, so it's important to choose high-quality bacon with a good balance of meat and fat.
Don't burn the garlic. You only need to saute the minced garlic for 30 seconds to a minute for it to become aromatic. Any longer and it can burn, which can give the dish a bitter taste. 
Storage
You can store leftover creamy bacon chicken in an airtight container in the refrigerator for up to 3 days or in the freezer for up to 3 months. To reheat, gently warm it on the stovetop or in the microwave on medium heat. If needed, you can add a splash of milk or chicken broth to loosen up the sauce.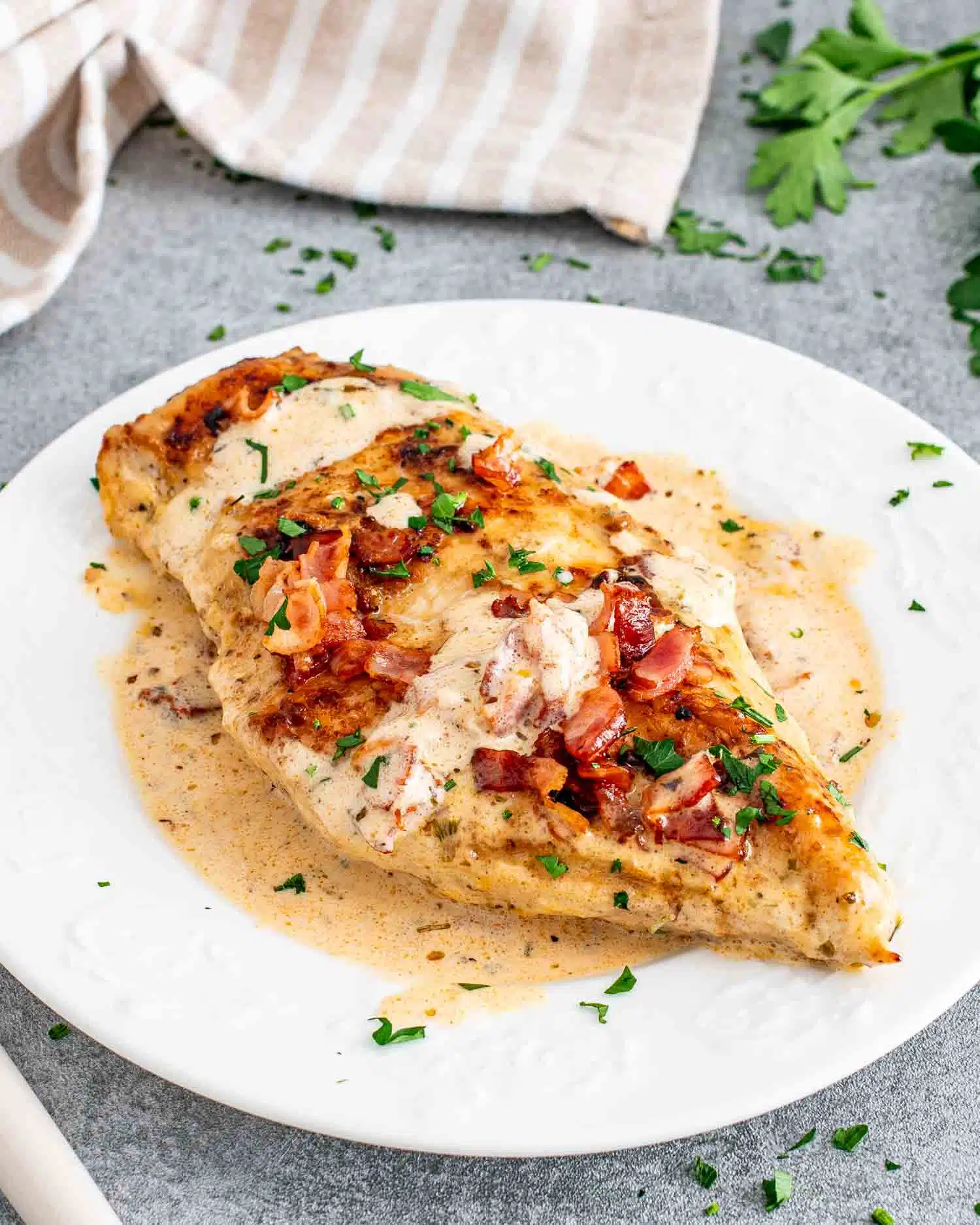 Discover More Chicken Recipes
Craving More? Follow Along:
Creamy Bacon Chicken
This Creamy Bacon Chicken recipe seamlessly brings together succulent chicken breasts seasoned to perfection with a luscious sauce that's rich in flavors from heavy cream, Parmesan, and aromatic Italian seasoning. The crisp bacon pieces elevate the dish, adding a hint of smokiness and texture. And the best part? This recipe is easy and quick to whip up, ensuring a gourmet-style meal right at your dinner table without hours of labor!
Prep: 15 minutes
Cook: 20 minutes
Total : 35 minutes
serves: 4
Ingredients
4 chicken breasts boneless and skinless, pounded thin
salt and pepper to taste
1 teaspoon garlic powder
1 teaspoon onion powder
1 tablespoon olive oil
8 slices bacon chopped
2 cloves garlic minced
1 cup heavy cream
½ cup Parmesan cheese grated
1 teaspoon Italian seasoning
½ teaspoon paprika
fresh parsley for garnish
Instructions
Season both sides of the chicken breasts with salt, pepper, garlic powder, and onion powder.

Heat the olive oil in a large skillet over medium-high heat. Add the chicken to the skillet and cook for 4-5 minutes per side, or until cooked through and golden brown. Remove the chicken from the skillet and set aside.

In the same skillet, add the chopped bacon and cook until crispy. Remove the bacon from the skillet, leaving the grease behind.

Reduce heat to medium and add the minced garlic to the skillet, sauté for 1 minute until fragrant. Add the heavy cream, grated Parmesan, Italian seasoning, and paprika to the skillet. Stir to combine all the ingredients and simmer for 2-3 minutes until the sauce thickens.

Add the cooked chicken and bacon back into the skillet. Simmer for another 2-3 minutes, spooning the sauce over the chicken.

Garnish with fresh parsley before serving.
Tips & Notes:
Chicken Thickness: Pounding the chicken to an even thickness ensures uniform cooking and tender results. If you don't have a meat mallet, you can use the flat side of a heavy pan to pound the chicken.
Bacon Crispiness: For extra crispy bacon, ensure your skillet is hot before adding the bacon. If you prefer less crispy bacon, you can remove it from the skillet a bit earlier.
Sauce Consistency: If your sauce gets too thick, you can add a splash of chicken broth or milk to thin it out to your desired consistency. Conversely, if it's too thin, let it simmer a bit longer.
Cheese Substitution: While Parmesan gives a lovely savory touch, feel free to substitute with other hard cheeses like Romano or Grana Padano for a twist.
Storing & Reheating: Leftovers can be stored in an airtight container in the refrigerator for up to 3 days. When reheating, do so on low heat to prevent the cream sauce from separating.
nutrition facts
Serving: 1serving Calories: 732kcal (37%) Carbohydrates: 5g (2%) Protein: 60g (120%) Fat: 52g (80%) Saturated Fat: 23g (144%) Polyunsaturated Fat: 5g Monounsaturated Fat: 18g Trans Fat: 0.1g Cholesterol: 249mg (83%) Sodium: 771mg (34%) Potassium: 1023mg (29%) Fiber: 0.5g (2%) Sugar: 2g (2%) Vitamin A: 1188IU (24%) Vitamin C: 4mg (5%) Calcium: 215mg (22%) Iron: 2mg (11%)